Anyone with bettas, particularly the long finned variety, knows the struggle of finding affordable, betta-safe, tasteful caves. Most plastic caves in pet stores have too many sharp edges. Most ceramic caves come only in
lovely
shades of neon. And most flower pots, while cheap and effective, leave something to be desired visually, roll around, and are harder to sterilize because of the pores.
The benefits of making your own cave are obvious: you can guarentee its safety, customize its shape and color, and chose a size and style that works for your tank.
Well, I found a candle holder for 95 cents at my local craft store that, when paired with gravel and a plant, makes a very attractive betta cave, so I thought I'd share the process with you. You can apply the steps to any shape or size, adding whatever color gravel and type of fake plant you want to make an attractive and safe cave for your betta.
1) Select a glass candle holder or similar glass container, that fits in your tank. Make sure it hasn't been painted or dyed, and has only smooth rounded edges. I use
this
holder; the shape is easy to set on the floor of a tank with or without gravel, and has fewer surfaces to cover with gravel than a cube, which saves money.
2) Also select a small bag of gravel (whatever color you want) and a small silk plant. I suggest chosing gravel similar in color to the tank's gravel to give a unified theme. Silk plants should have a large enough stem to be attached securely to the glass.
3) The last thing you will need to buy is a small tube of aquarium sealant; it doesn't take much sealant to make one cave, so you can realistically make quite a few with just one tube.
4) Rise and dry the gravel and glass alike. Once both are dry and ready, start by coating one side of the glass with sealant. Then, coat it thickly in sand or gravel until you can not see the glass below.
5) Keeping one hand inside the candle holder, rotate and repeat the procedure on the next side. Do the side with the attached plant last.
6) To attach the plant, lay the stem flush to the glass and secure with a thick coating of sealant. Once it has started to harden (which shouldn't take long), you can start affixing the gravel. Do not try to attach the plant and gravel simultaneously; one or the other usually falls off.
7) Leave the bottom of the cave without any gravel. This allows it to be placed on the bottom of a gravel-less aquarium. It also makes it easier to place on top of gravel, and keeps the cave level. You should also leave the inside of the cave smooth; this will give the betta more comfortable resting place, and will increase the ease of cleaning the cave should your betta choose to use it as a potty (one of mine does).
8) Let the sealant set for a minimum of 48 hours. After that point, you can trim any excess sealant (if any), rinse, and place it in the tank. Your betta will love it!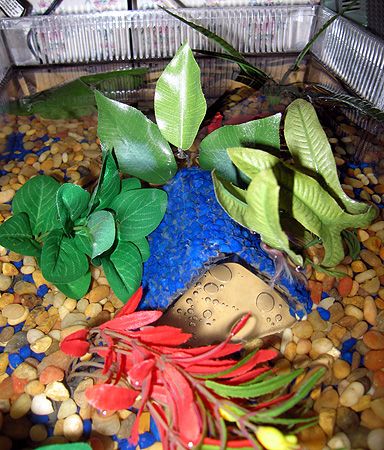 Here is a sample cave in the shallow 2.5g special needs tank - in a normal tank, the attached plant wouldn't be part of the way out of the water. Notice the glass interior for easy cleaning. Also notice the tail of the boy leaning up against the cave and hiding under the adjacent plants - too cute!
Edited by RandomWiktor, 18 July 2006 - 11:24 AM.