*Keep in mind, this is my method of shipping. I'm sure some people do it a bit differently, so this isn't set in stone!*
What you need:
A box. There are many places to get boxes for shipping fish. WalMart and any office store (like Staples and Office Max) will have them. I personally get the priority shipping boxes that the USPS offers for free. You should be able to get them from your local post office, and you can always get them online from
their website
. If you use these boxes though, make sure you're only shipping through the USPS.
Styrofoam insulation. You can get this from a home improvement store like Home Depot or Lowes. You'll want it at least a 1/2" thick. You'll also need a razor blade for cutting this to the appropriate size.
A heat pack. I recommend the 60 hour ones for shipping express, and the 72 hour ones for shipping priority. There are many places to get them; Aquabid is a good place to start. If you'd like a recommendation on a seller, I get mine from the seller
Viking
, and have only good things to say about him.
Shipping bags. You'll need two bags per fish. These are also available from Aquabid. I personally got the 4" x 12" ones from
Majestic Bettas
.
Newspaper, packing tape, scissors, Sharpie marker.
What do to:
1. Tape up the bottom of your box.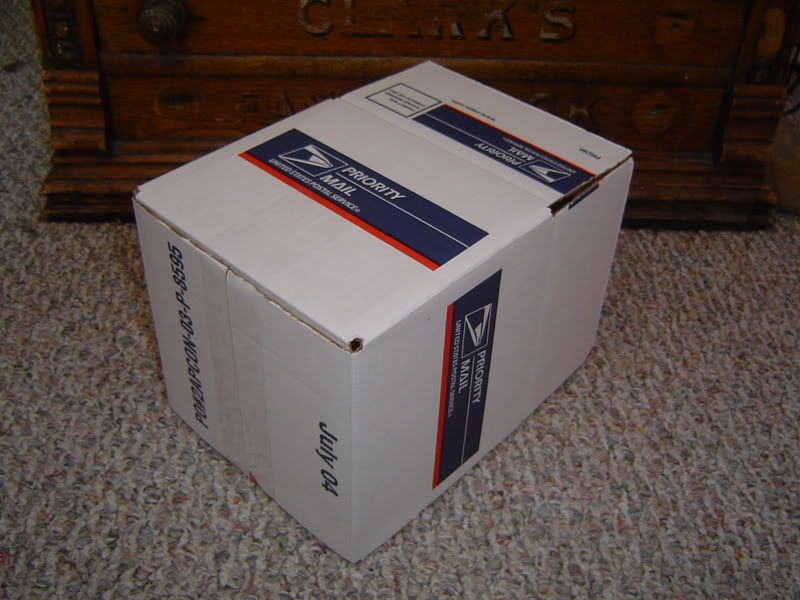 2. On your computer make some labels to put on the sides of the box. I never put "Live Fish," only because sometimes well-meaning postal workers cause more harm than good when they know there are fish in the box (such as putting the box right by the air-conditioning vent in the summer-- not good!). Here are my labels: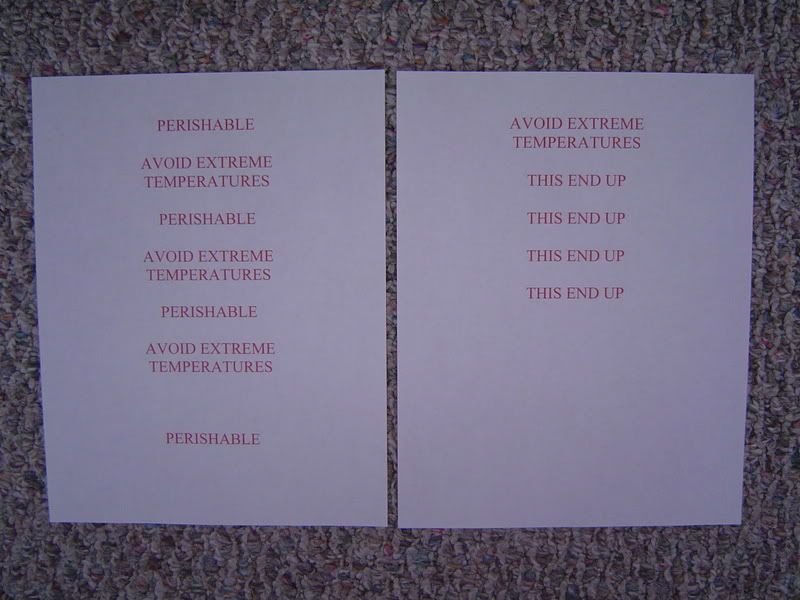 3. Cut the labels and tape them to all sides of the box using packing tape.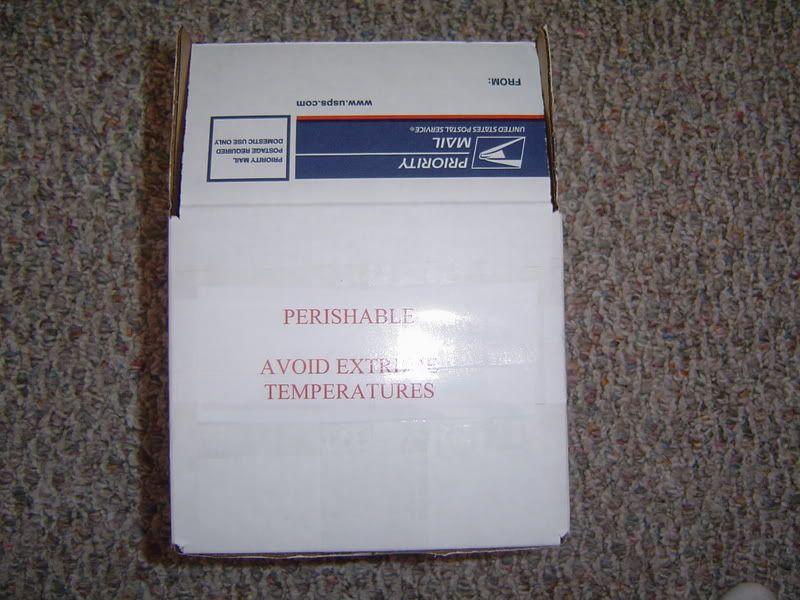 4. Carefully cut the styrofoam insulation to the appropriate sizes using a razor. You'll want one piece to cover the entire bottom of the box, 4 pieces for the sides, and a piece to go over the top. This takes some practice and can be a pain at first, but after a few you'll get the hang of it. The important thing is to make sure all the pieces fit together tightly.
5. Assemble all the styrofoam pieces into the box, except for the top.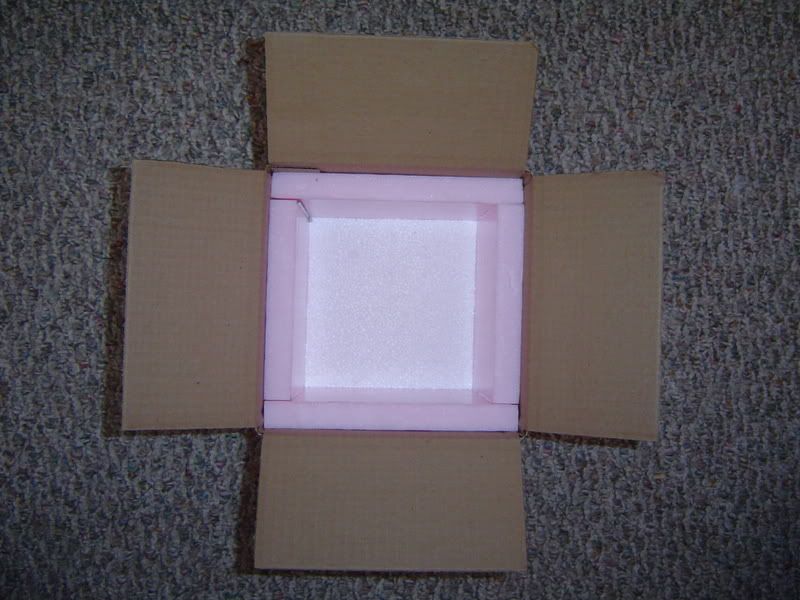 6. Open both shipping bags, and fill the first with a couple inches of CLEAN, DECHLORINATED water (not water from the tank). Put the fish the bag. You want to make sure the fish is completely covered in water, but remember that water is not what's important here; rather it's air. Bettas don't need to swim around while being shipped, they just need to stay wet.
7. Tie the bag closed, making sure you close in plenty of air. You want 1/2-2/3 of the bag to be air. DO NOT BLOW THE AIR INTO THE BAG! The air needs to be oxygen-rich, not already "used." Tie the bag knot very tightly to prevent leakage, and cut off excess bag.
(Thanks to Flo for being my model!)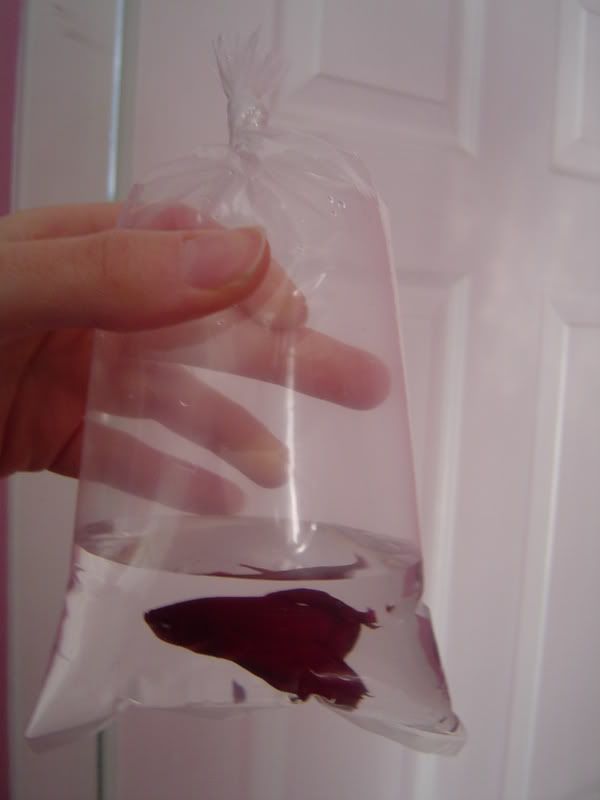 *THIS IS IMPORTANT!!* MAKE SURE THAT WHEN YOU TURN THE BAG SIDEWAYS THAT THE FISH IS STILL SUBMERGED!!!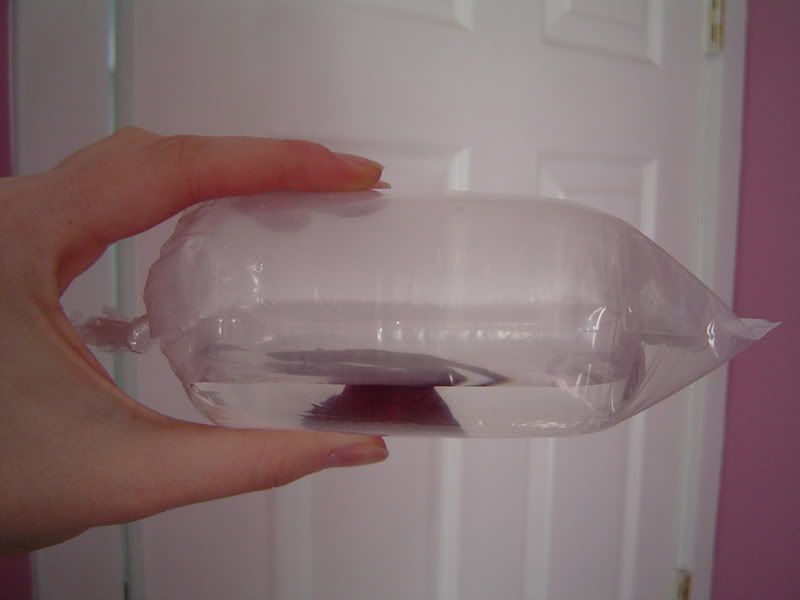 8. Put the first bag (with the betta in it) into the second (empty) bag KNOT FIRST. Tie the second bag closed, again very tightly, and cut off excess bag.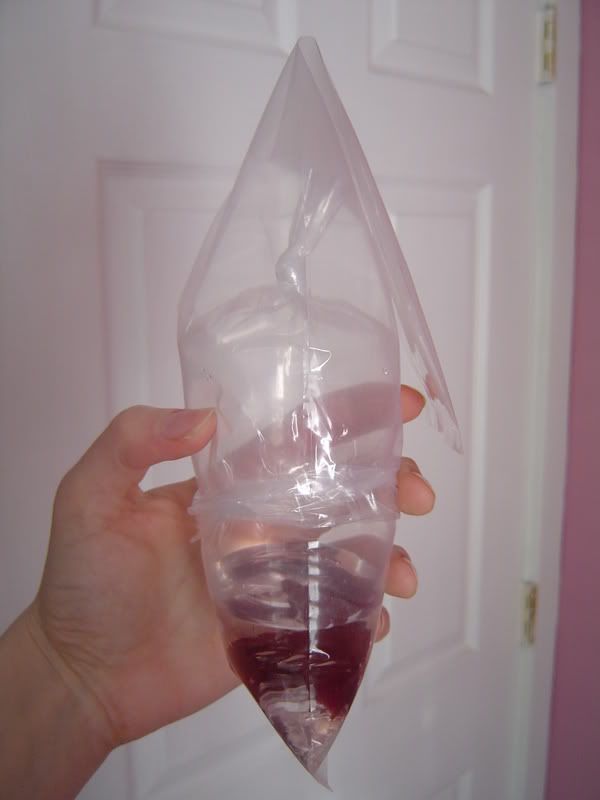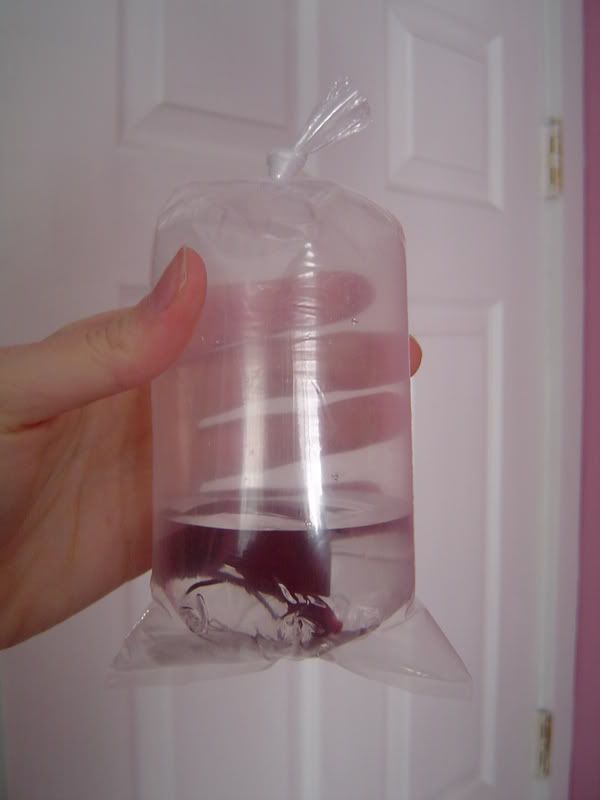 9. Unwrap heat pack, wrap in newspaper, and put it against one side of the box. Heat packs get very hot so you want to make sure it's not close enough to boil the fish, and you certainly don't ever want the heat pack to come in direct contact with the fish bag.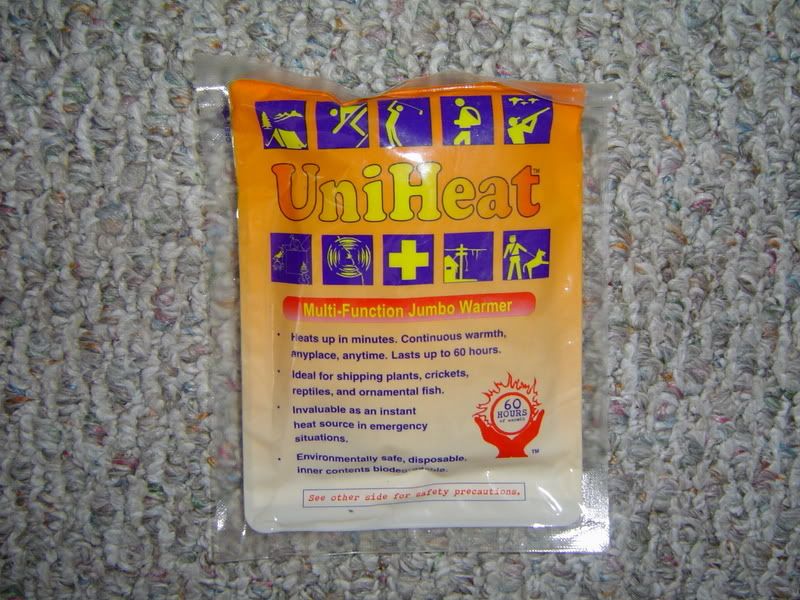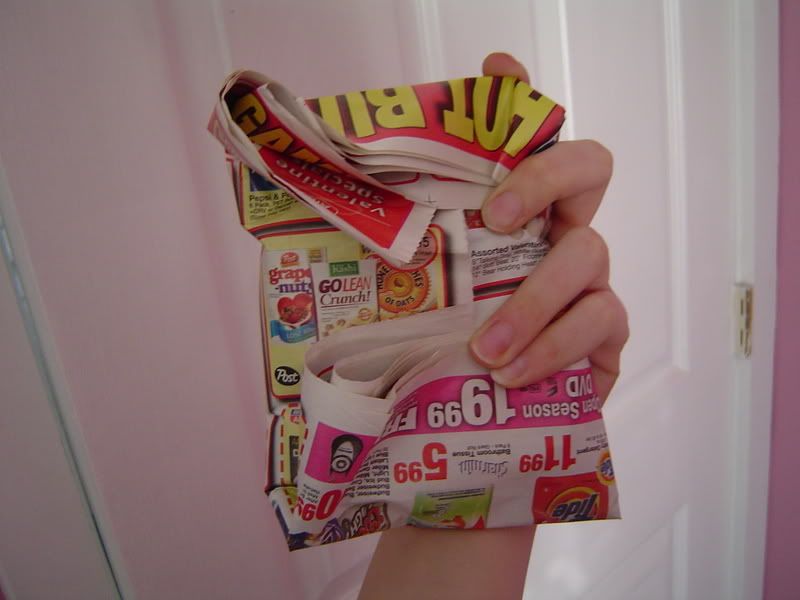 10. Put the fish in the box on the other side of the box. Make sure that the first bag's knot is facing up. Pack newspaper all between the heatpack and fish, and on the sides of the fish to keep it standing up.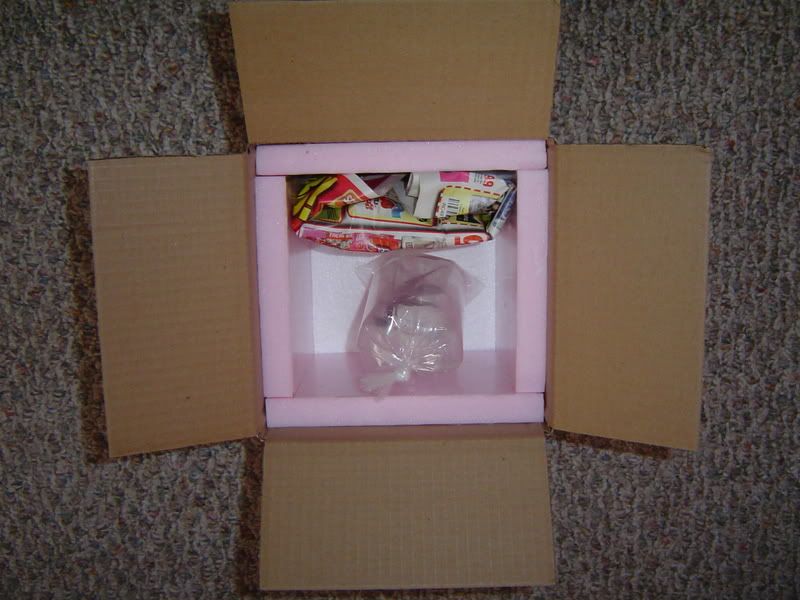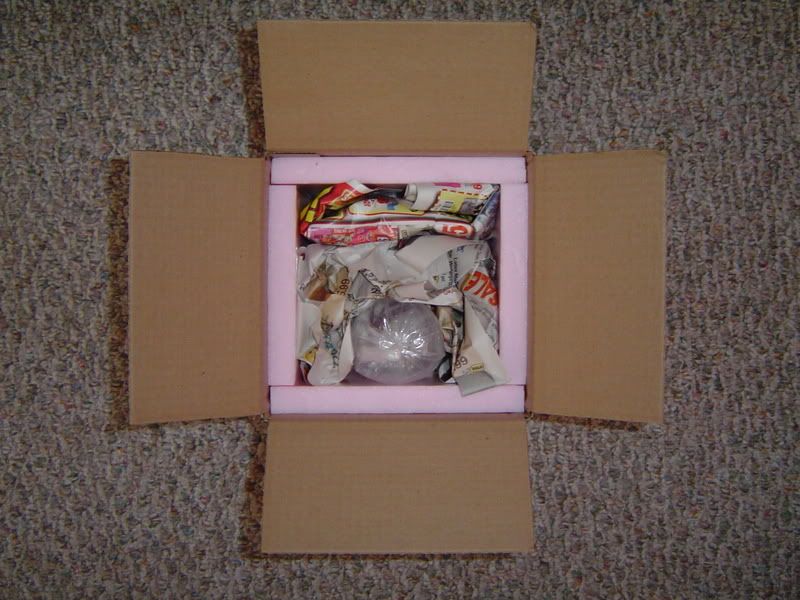 11. Put the styrofoam cover in place, tape up the box, and add "THIS END UP" labels to the top of the box if desired. I also put arrows pointing up on all sides of the box and write "FRAGILE."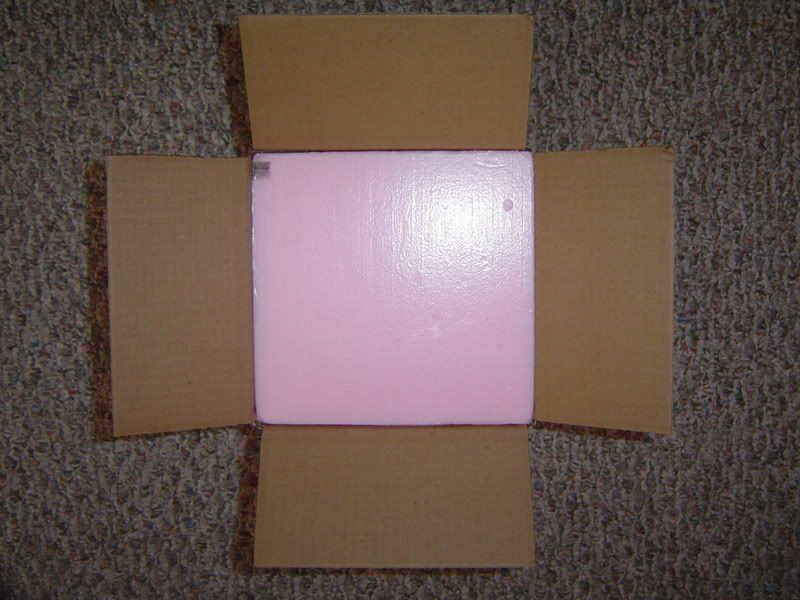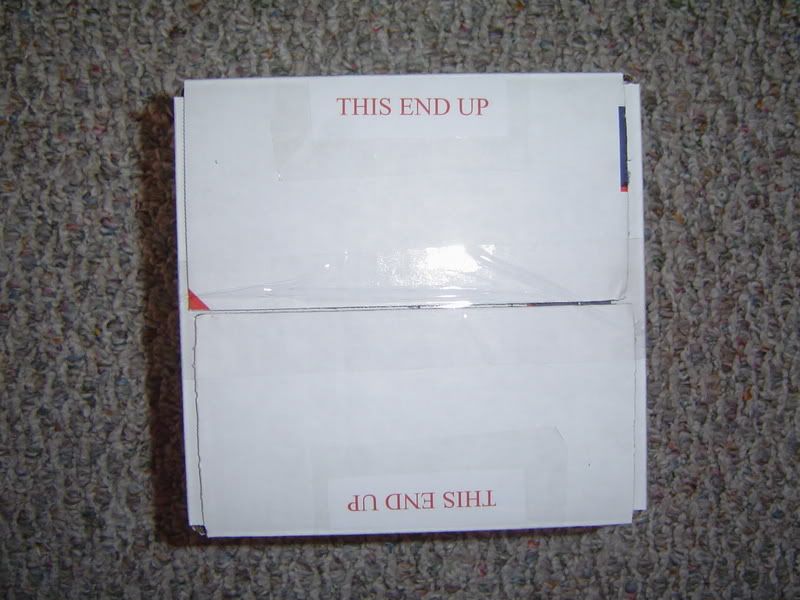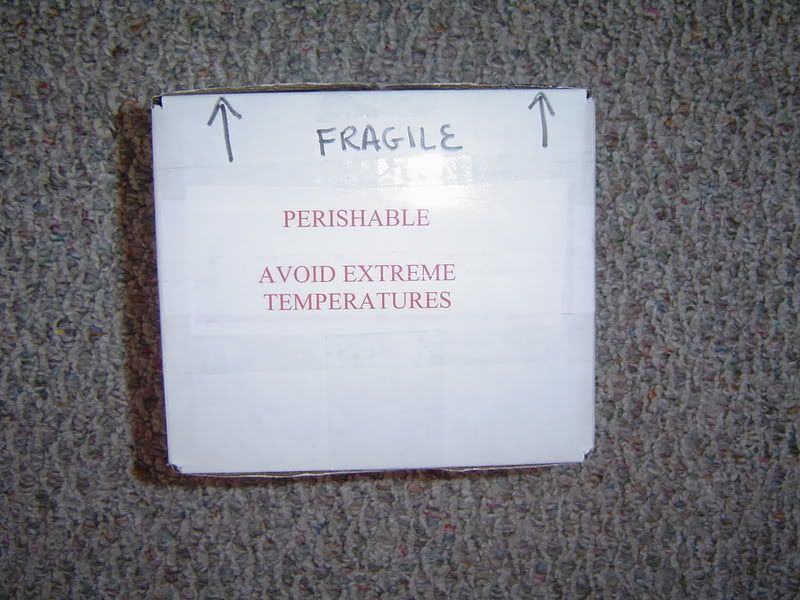 12. Address box. If you're using USPS Express shipping, you'll need to use special labels that you can get at the time of shipping, or get ahead of time from the post office or
online
.
And you're all set!
________________________________________________________________________
Now, a note on priority shipping. I had heard on a different forum that someone was having some trouble with priority shipping. They called the USPS, and they were told that as of January 1st, 2007, a package shipped priority can take up to 14 days to reach its destination. As a breeder who ships bettas somewhat often, I was concerned and sent USPS an e-mail. Here is what I wrote:
Hello,

I am a betta fish breeder who ships fish via USPS all over the country. When it is warm enough, I offer the option of either express shipping or priority shipping. However, I recently heard that as of January 1, 2007 packages may take up to 14 days to arrive at the destination. I cannot find any information on this on your website, and would like to make sure that this is true, because if so, I will no longer be offering priority shipping as an option (but will still ship express). I'd very much appreciate a reply. Thank you!

Sincerely,
Elise *last name censored*
Two days later, I got this response:
Dear ELISE *last name censored*,

Thank you for contacting us about the delivery time for Priority mail.

Priority mail has an estimated delivery time of 2-3 postal business days. This is not a guaranteed delivery time there can be delays.

There is no guarantee with the delivery time any of the Domestic mail classes except Express mail. However, 94 plus percent of mail is delivered in within their perspective estimated delivery times.

If a mail piece does not arrive in the estimated delivery time it is not considered lost until 14 postal business days have past from the date of mailing (Except Express mail, Express has a different process). At that point we will file a report for the mail piece if the customer notifies the United States Postal Service of the matter.

If I can be of assistance to you in the future, please don't hesitate to contact me. Thank you for choosing the United States Postal ServiceŽ.

Regards,

David F
I just wanted to share this, as it surely concerns all of you who ship fish and/or have fish shipped to you. It may very well be worth the extra $15 (or so) to upgrade to Express.
_______________________________________________________________________
I hope you all found this informative!