Yesterday a friend sent me a message through facebook aking if I had room for any guppies. Since I had some empty tanks (things have been changing here!) I agreed to take some in. She said hers were breeding too heavily and her tank was way overstocked. She broght me a mason jar full of them.
There were more than I expected so I ended up putting them in my 20 high (no other fish)for the time being.
They look a bit thin, most are nipped up and two are pretty deformed. Here's a picture of one: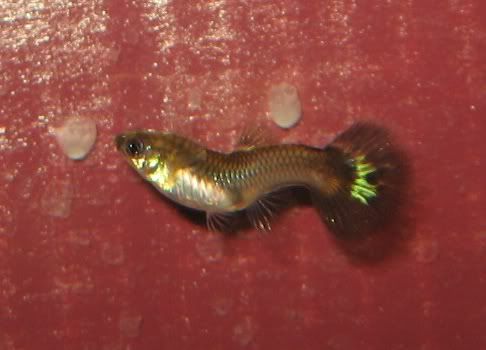 There is another that looks like this one but it's a fry, quite a bit smaller yet.
So far tonite Ive had crappy luck working with my tanks- I started to vacuum one out and the hose came out of the bucket so I have fishPEWP carpet that Im not so happy about. I thought I'd take a break to post a picture of this one though. Im going to seperate the two deformed ones out of the tank since I think they are females. No breeding from them!
What would cause this deformity? Genetics and/or habitat? I honestly dont know what size tank they came out of or anything about their previous care so I cant give any insight about that.
I guess once I get the carpet issue resolved I'll work on sorting the males from females as best as I can in order to prevent more fry in general. I'm just curious about how this deformity came about though.