I have a pair of Betta Albimarginata in a community tank setup. They are in a 26g flat back hex.
Tank pics: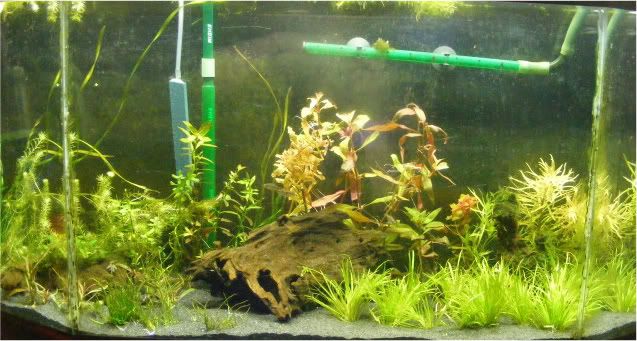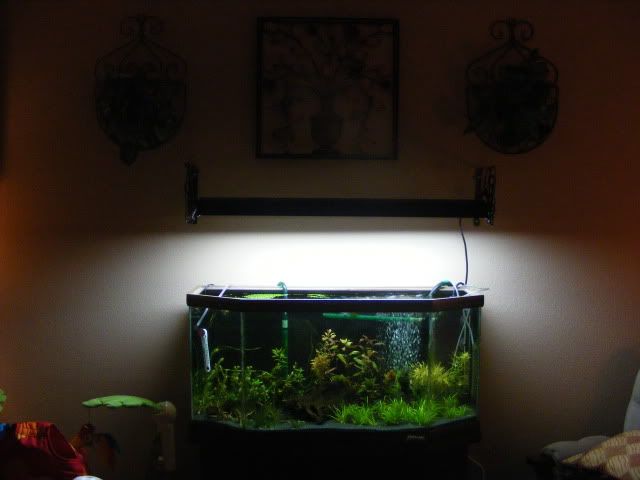 I have recently raised my lighting up because it was much too bright for them (two T5HO bulbs). I also changed my substrate from light colored sand to black flourite sand. Waiting for the plants to fill in the tank a bit more.
Other fish in the tank are:
Corydoras (panda and leucomelas)
Checker barbs
Pork Chop Rasboras
Otocinclus
There have been several instances where the male will go into hiding for several days... but as of yet I haven't seen any fry. I'm not sure whether this is because something is eating the fry, he can't get the hang of this "daddy" thing, or maybe there is no fry to begin with.
I'm thinking I will need to set up a dedicated breeding/fry tank and would like advice on what would be best. I am not able to spend a whole lot of money because I've just spent a TON setting up three high tech planted tanks.
Questions:
1. Should there be substrate in the tank? I know in a lot of fry tanks, there is no substrate for cleanliness. I'm not sure how to go about having a substrate-less tank since there also has to be plants in there.
2. Plants - if I go without substrate would things like moss, floating plants, and rhizome plants be sufficient?
3. Caves - I have a lot of driftwood and a couple coconut shell caves. Will that be sufficient?
4. Tank size: I have spare 5.5g and 10g tanks... and possibly a standard 20g. I do also have a 29g but that is sort of set aside as a mbuna fry/hospital tank. I could POSSIBLY purchase a 20g long if that's my best option.
My plan is to put the pair in the breeding/fry tank and then once I see the male holding, remove the female back to the main tank.