I had a lone male sexy shrimp in my tank for a loooong time while I waited for us to get in more females at work. By the time I finally did get a female for him, I noticed that he looked... different. He was starting to get thicker, and over the course of a couple of molts, the stripe across his middle broke into 2 spots. He looked like a female.
Currently, I am pretty certain that I have 2 female sexy shrimp and no males. Despite this, he/she shrimp is now carrying a few eggs. The new one, which is smaller and definitely female, has none. I am finding mixed information about sexy shrimp sex changes online, but this sort of thing isn't uncommon for shrimp in general, and it's possible they have the ability to transform into hermaphrodites
like peppermint shrimp do
. Weird.
The shrimp on the right with the red eyes (also a new development) is the tranny. They are so little it was really hard to get a pic, but hopefully you can see a couple of small orange orbs peeking out of her skirt. You can also see how the two big spots in the middle of her back are still slightly connected, whereas they're disconnected in the vast majority of females.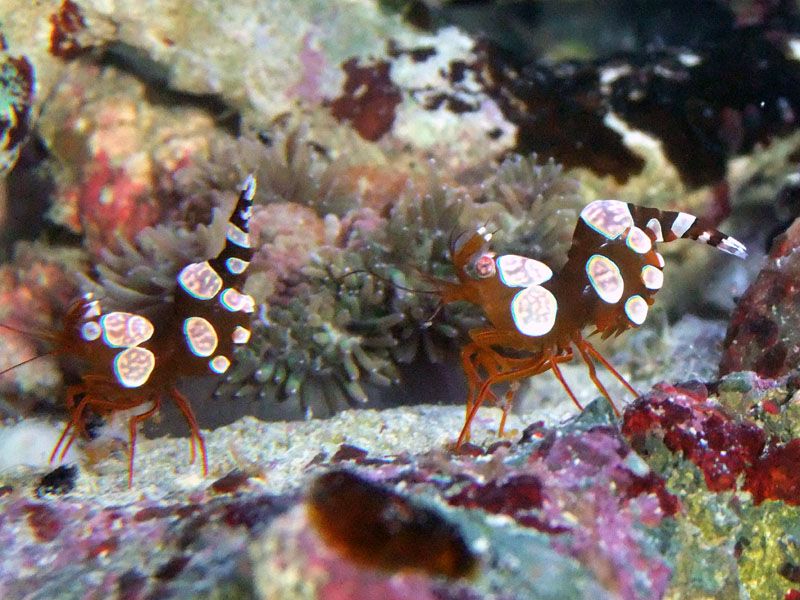 This is a male, for comparison. They have an unbroken stripe across the middle. (Image from
Marine Garden
)