Some of you read my thread about needing help sorting fish out. In it, I mentioned a pleco I was supposed to pick up from a coworker. He said it was big and he needed it gone.
I got home from work today with plans to get it around 6:30pm. Nervous about what "big" was I posted an ad on Craigs List:
Free huge Pleco (fish)
I have a friend who needs to rehome a pleco fish. It actually belongs to his son and daughter in law, but since I work with Joe and we talk about our aquariums quite a bit he asked me to take the animal since his tank is too small by far.
I agreed, but by the size he measured out (approx 14 inches) I dont know how well it will do in either of my 55 gallon tanks considering what fish I already have in there.
I dont have the fish yet- Im picking it up tonite around 6:30 at the VFW in Washington, then will be bringing it to Union.
I haven't seen it; Ive only been told of it and it's size.
Joe is supposed to bring it to me in a 5 gallon bucket. If anyone local wants this animal please shoot me an email or text me at x. I wont have any more details on it until I have it but if you can provide it a home and want it feel free to contact me.
...
Believe it or not, someone who lives VERY close to the VFW sent me a text and some photos of their tank (its only 90 gallons though) and said they wanted it sight unseen.
I got to the VFW, waited- met Joe. He put the bucket in the truck for me, I went across the street to a lit up marketplace to meet he person who wanted the fish. I had a few minutes so I took the bucket out of the truck- pried off the lid and almost peed my pants.
Pictures arent the best because it was dark outside and my cell phone wasn't charged well, but in the bucket this fish has its tail curled UP in order to fit.
Yep, it's a big one, holy cow!!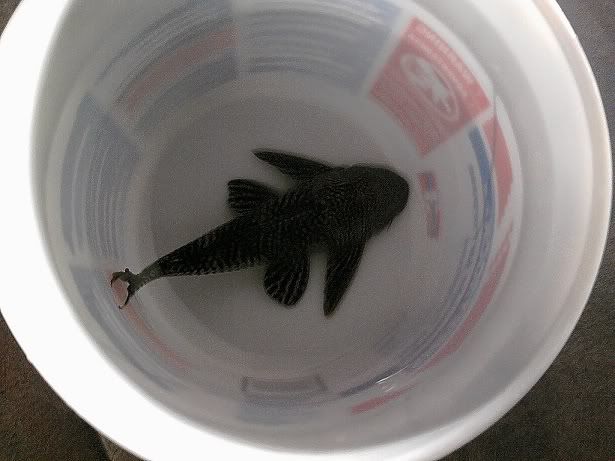 I really hope it went to a good home, but Im almost glad I didnt get it here and open the bucket to THAT suprise!