Does anyone here own an Albino betta with red eyes? I know they are very rare, but I heard of 1 person who found one for sale though unfortunetly the betta is now completely blind and not doing the best.
I also wanted to share that once at Petco I saw a betta that was bubblegum pink with some white (not to be confused with pink dalmation coloring which is more red looking). It was very similar to this picture here and same tail type, in the store it had more white though. If at the time I had an empty tank i was going to adopt it but it was snatched up the same day. It is real, I saw one sold so this photo is not enhanced. Are these very rare in the hobby?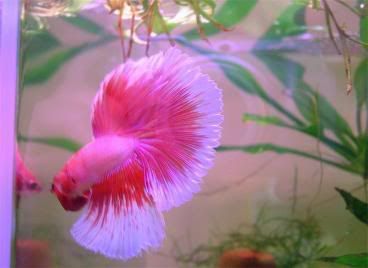 Here's a real rainbow betta!
Edited by KeithP, 15 December 2010 - 09:31 PM.