So my other betta Hoshi was sick towards the end of last week, and I ended up going to Petco three days in a row to get medicine, new food, water supplements, etc. While I was there I decided to check out their bettas and one kept drawing me back. He was completely aloof. Or depressed, I couldn't tell. He wouldn't flare for me or any of the other bettas, and I could tell that he wasn't likely a half-moon (like the cup said). I also saw that his tailfins were a bit ragged, although I really couldn't tell how bad it was. Still... I knew that if Hoshi passed away, this guy would be my new betta, assuming I could get there before he was sold.
Well Hoshi did swim under the rainbow bridge, so after doing a fast tank break-down and sterilizing, I waited as long as I dared and went back to get this dude.
And boy, am I glad.
Here he is at rest. This was the first night... I didn't want to stress him out too much by dragging out the lights and mirrors, so I snapped a few candids.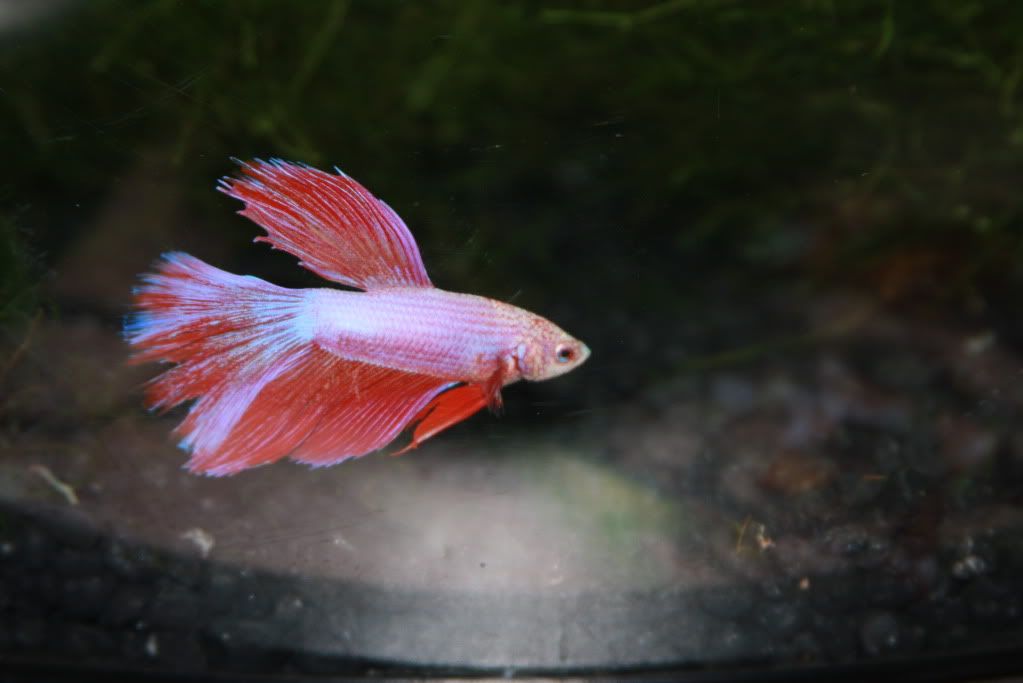 I love the little red & white speckles on his head.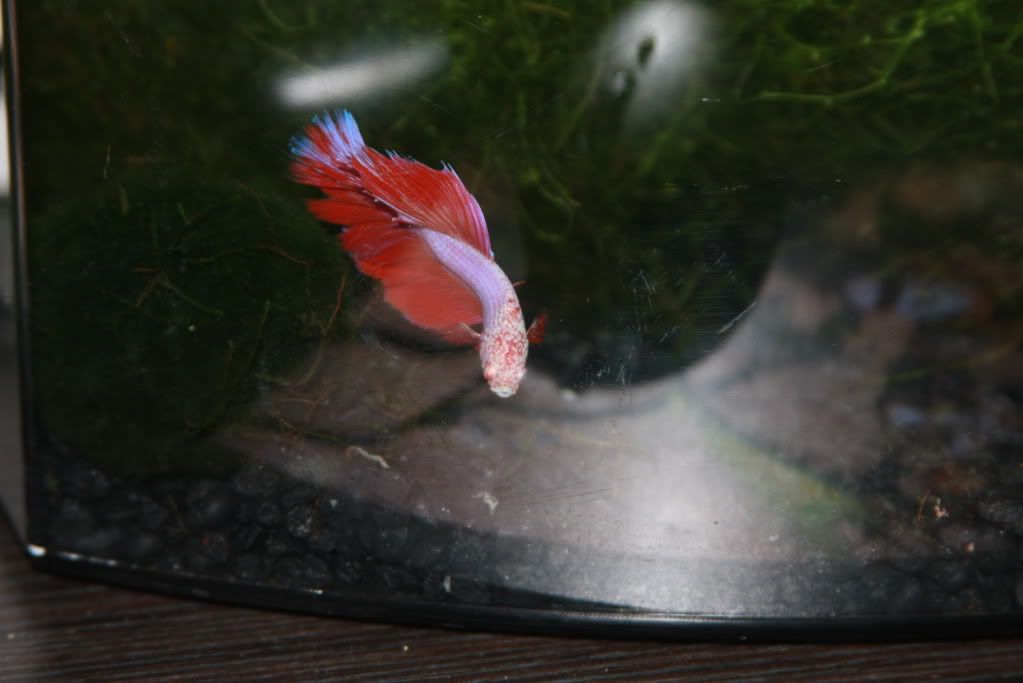 I think he's fairly young, his body is only an inch and a half long. Teeny by VT standards. I had to wonder about him at first... he was nowhere near as active as my VT, and pretty much would swim, stop, drift a bit, swim, stop, drift... almost like his fins were just too big for him to manage. He likes to lay on the java moss in the tank... maybe to give him a rest from dragging the fins around? Who knows.
Tonight I dragged out the mirrors/lights and struggled to try to get a couple of halfway decent pics of him flaring, which was rough... he's a fast one! I think he's a super-delta... You can also finally see just how bad his tail damage is...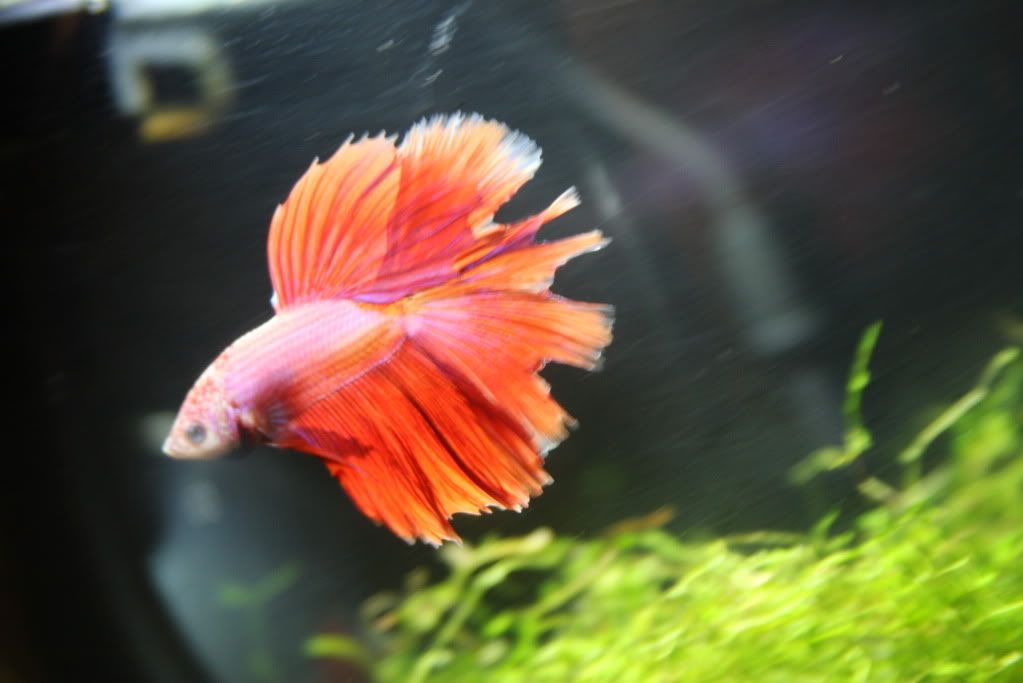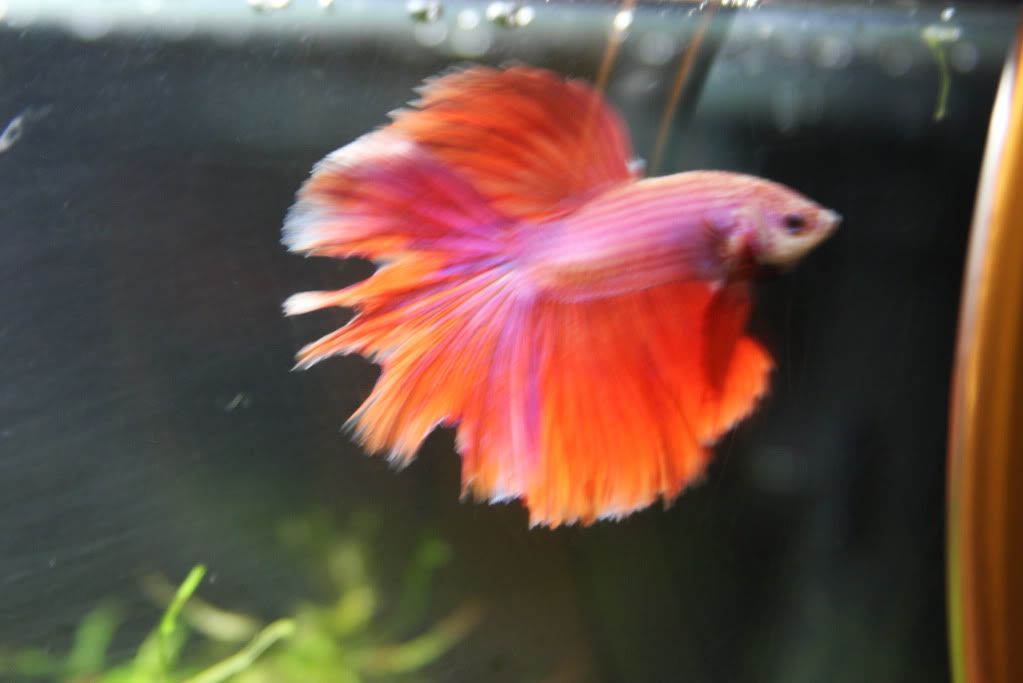 Holy-Moly, I didn't think it was that bad. Still, he's beautiful regardless. I'm no pro at fin damage, but I'm thinking that might be the signs of a tailbiter? The good thing is I haven't seen him biting his tail since he's been in the tank, and I've been watching him like a hawk. So here's hoping that it was just due to being in a cup. I'm going to be keeping a very close eye on his water parameters, keeping it as pristine as possible, and feeding him good pellets + brine shrimp/glassworms and see if we can get some regrowth happening. Even if they don't grow in, I'm still happy with him, he's a total cutie.
He's also gotten a LOT more active, swimming through the java moss like he's on a jungle hunt, flaring at his reflection, dancing for food, chasing the red cherry shrimp, etc. Took me a while to name him, but I think I've settled on Smooch, due to his coloring and his weird little open-mouthed pucker that I haven't been able to get a good snapshot of yet.
What color would you say he is? I'm thinking Cambodian with a blue wash or maybe lavender... or salamander... his body is light pink with a purple iridescence... and the fins are red but can look orange, pink or even purple, depending on the light.
Edited by moxie, 26 April 2010 - 10:43 PM.