I've been planning a tank for some Betta simplex for over a year now, and have just today FINALLY ordered the fish! lol
This tank is one of my oldest tanks (my hubby gave it to me as a wedding present
), so has seen lots and lots of different setups over the years. My passion over the past 5 years or so has become planted tanks, so I have now converted all of my tanks to live plants.
A word about my planted tank method:
My personal preference is LOW MAINTENANCE- I don't like using water column ferts (I use litte to no ferts on any of my tanks) and I like to minimize the need for water changes (once or twice a month is it for me), so I set up all my tanks with these goals in mind. I limit my plants' need for additional nutrients by controlling light and by stocking each tank with an adequate bioload. I also use substrates (like Flourite and Mineralized Topsoil) that contain and/or will hold nutrients for the plants to pull in through their roots, and therefore incorporate mostly rosette-type plants in my tanks (swords, crypts, etc).
For the past year or so, this tank has been serving as my "catchall" tank- plants, fish, decor, etc that were overflows from other setups. It's often looked like this lol:
But over the past few months I've finally gotten around to actually cleaning it up and setting this tank up as a "real" tank. It's been serving as a QT tank for a large school of 50x Cardinal tetras for the past 2 weeks, but they're about to "graduate" and go into my 90gal in just a few days. Here's the tank as it stands today: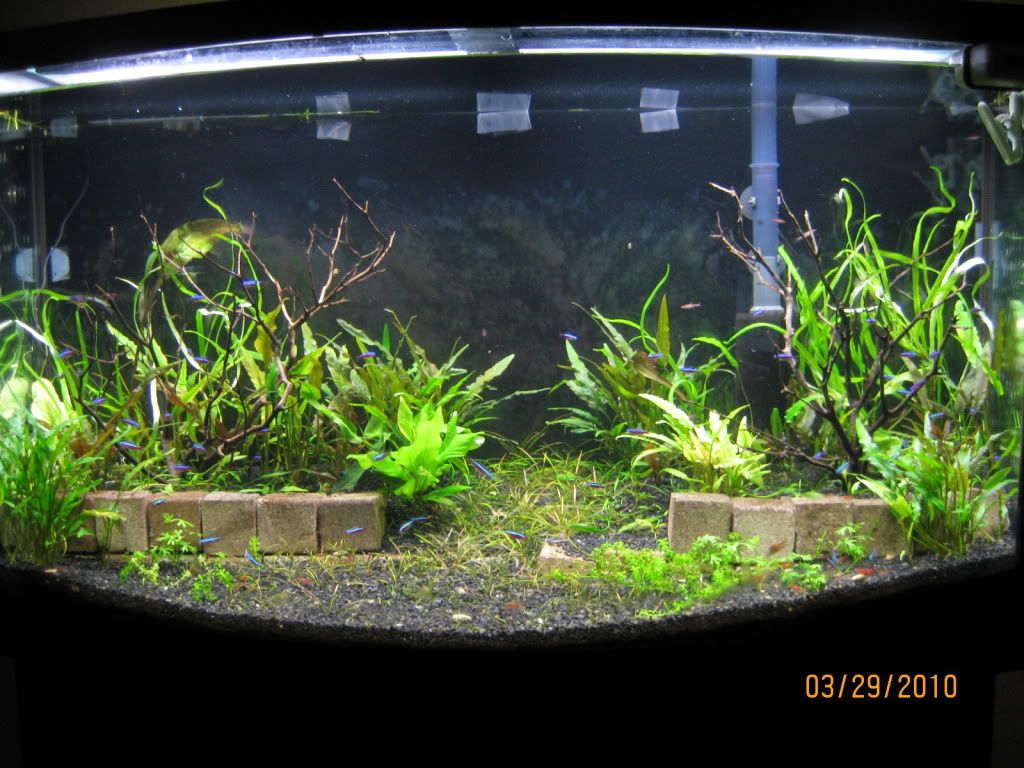 Equipment:
46gal bowfront tank on black stand
Filter - Eheim 2217
Lighting - Coralife 2x21 watt T5NO
Heater- Hydor ETH inline 300 watt
Substrate - Mineralized topsoil capped with a mix of Flourite black and black T grade Colorquartz
Plants:
Assorted Crypts, including at least 3 or 4 different C. wendtii varities and hybrids, C. lucens, C. parva, C. ciliata, C. cordata 'rosanervig,' C. undulata, C. moehlmannii, C. pontederiifolia, C. cordata blasii... probably some others, too?
Hygrophila angustifolia
Hygrophila kompakt
Echinodorus tenllus 'red'
Ranunculus inudatus
Hemianthus micranthemoides