As the question comes up quite often, how DO you tell the difference between the tail types??
Well, I've included pictures and explanations to make it all much easier for you! Now off to the tail types!!
Veiltail - VT
Veils have 2 rays in their tails, and the shape is long and downward sloping. The trademark and what sets this tail type apart from all others is that the caudal is not symmetrical. These are the most common petstore type bettas. Females also have 2 rays in the tail, but their anal (bottom) fin is long and triangular.
Male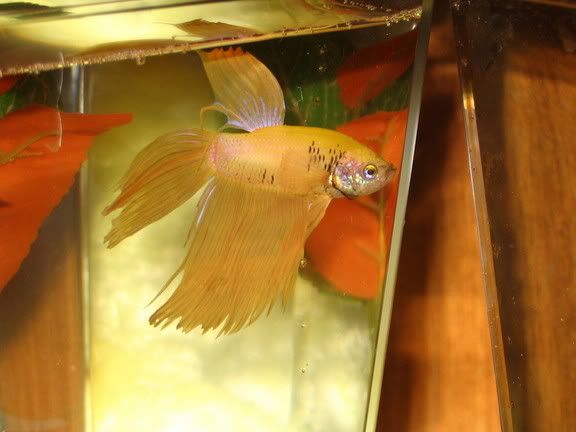 Chocolate mustard gas
This male has a shorter, fuller tail, but he is still a VT
Young Veiltail male
Female
Crowntail - CT
These fish have long extended rays on the dorsal, caudal (tail) and anal fins and often have some extensions on their ventrals. The rays should extend upward as well as downward when the tail is spread. The tail shape is unlike that of a veil and is similer to the delta and halfmoon. Females have shorter fins, but also have long ray extensions. They are often mislabeled as "fringetail".
Male
Halfmoon variety with uneven webbing between the rays
Female
Halfmoon - HM
A halfmoon will have multiple branches (4 or more, the more ray branchings the better the finnage typically) and will have a 180 degree caudal spread. The spread and crisp edges of the tail are key in halfmoons, and set them apart from super deltas and deltas. Females will also have multiple branches and will usually have a longer, more square anal fin.
Male
This male suffered fin damage as a young juvie, as a result his tail is not even - he is not however an example of a combtail
Female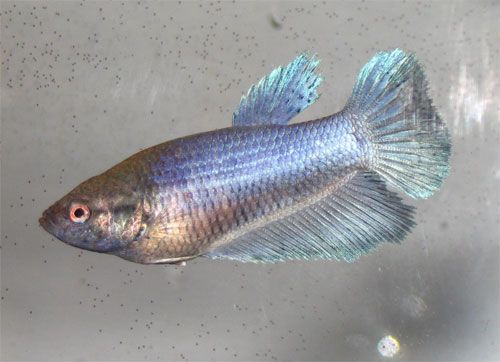 Delta and Superdelta - Delta & SD
These are very similar to a halfmoon except for the degree of tail spread. Delta tails have a spread that looks like a triangle (many suggest the tail spread goes up to about 120 degrees). Super deltas are a larger triangle and anywhere up to 179 degrees. The top and bottom edges of the tails should she straight, not rounded.
Male
A young delta
Female
Plakat - PK[

/i]
Also called "fighter" style, short-tail, roundtail. These fish have short tails with equally short dorsal and anal fins; they have only 2 rays. Ventrals should be around as long as the tip of the anal fin (which should be triangular in shape). Female plakats have a rectangular-shaped anal fins.
Male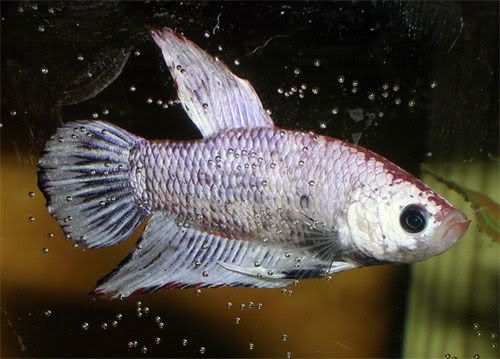 Copper
Red
Female
(notice the rectangular anal fin - no pointy end)
Halfmoon Plakat - HMPK
As the name suggests, these are short-finned fish with multiple rays (usually only 4). Females will still have a rectangular shaped anal fin, but it is usually long than that of a plakat female.
Male
Orchid
Female
Doubletail - DT
This tail type is pretty self-explanatory. Scissortail and Twintail are other names sometimes used for this type. Fish should have 2 distinct lobes that are split all the way to the tail base (although splitting may not always go down that far); the lobes should point in 2 different directions. Generally these fish have large dorsal and anal fins. The large dorsal itself is what gives this tail type away. There are veiltail, halfmoon and plakat doubletails, as well as crowntail doubletails, which are newer on the betta scene. Due to a shortening of the spine, two doubtails should not be bred together as this increases the risk of defects in the fry.
Male
Halfmoon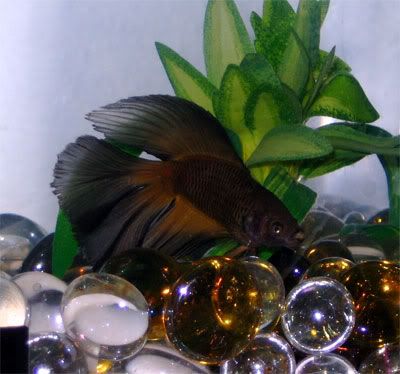 Plakat
Veiltail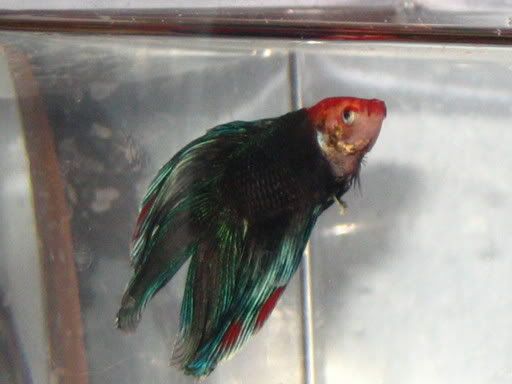 This fish received severe fin damage as a young juvie and his fins grew in deformed. You can tell by the dorsal however he is still a doubletail

[i]Crowntail version (thanks, beyondanytherapy!)
Female