It's not always columnaris.
Columnaris, pseudomonas and saprolegnia
Columnaris
Scientific name
: Flavobacterium columnare, flexibacter columnaris
Common names
: cotton-wool disease, mouth fungus, saddle-back disease
It is a gram-negative rod bacterium, not a fungus as we often mistakenly call it. Columnaris is present in almost all aquariums, but most often affects fish in stressed by poor water quality, improper or inadequate diet, shipping, etc. It is one of the most common bacterial infections in live-bearers and catfish.
So what does columnaris look like? It is often grey-white and fluffy, like cotton. It most often affects the body of the fish, creating a saddle-like band across the back, or it can affect the mouth. The scales appear to be discolored white, and this can be the first sign of infection. If left untreated, the bacteria can eat away at the mouth and scales of the fish. A less common infection would be of the fins, in which the entire fin would appear to be eaten away from the bottom up, similarly to fin rot or ammonia burns.
If left untreated, this infection is extremely fast-moving and will cause white-edged ulcerations under the fuzz. It is extremely important to treat as soon as you see the infection starting.
The least common and most fatal type of columnaris infection is internal. It has no outward symptoms and the mortality rate within a few days is extremely high.
Columnaris is extremely contagious, so care should be taken to disinfect nets and other aquarium implements between uses and different tanks.
Treatment
: Tri-Sulfa for 10 days, clean water and aquarium salt to aid gill function. Maracyn (erythromycin) has also been used with success. During treatment, it is best to keep your temps around 74 degrees. Lower temps prevent the bacteria from growing so rapidly, but too low temps can be detrimental to the overall health of the fish during treatment.
The aftermath of a columnaris infection. Note the white edges on the ulcer.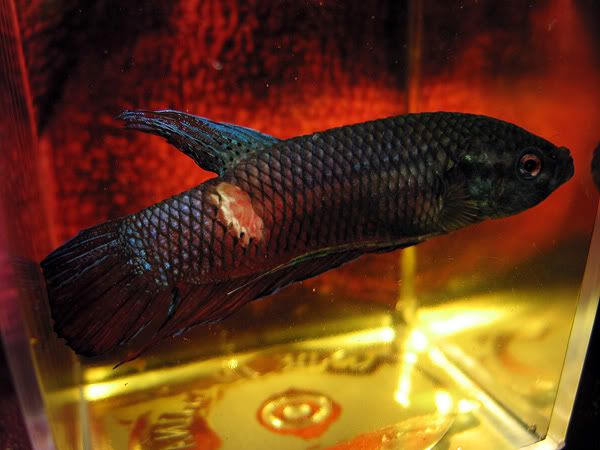 Pic from RandomWiktor
Columnaris bacteria attacking the mouth


Thanks to Ciddian for this pic
A really nasty columnaris infection


Thanks Phoenix-cry
Columnaris on the face of a female betta


Pic from Assaye
~~~~~~~~~~~~~~~~~~~~~~~~~~~~~~~~~~~~~~~
Pseudomonas
Scientific name
: Pseudomonas species
Common names
: Fin rot
This is also a gram-negative rod bacterium. It is often the cause of fin rot not caused by ammonia burns, but can be secondary to them in a dirty tank. The fins appear bloody and rotting away from the ends. The secondary infection, saprolegnia (a true fungus) often occurs at untreated fin edges and is often confused with columnaris.
Treatment
: 1% salt solution to start. If this doesn't take care of the problem, most gram-negative antibiotics will work. Erythromycin for 10 days along with clean water should eradicate the problem.
~~~~~~~~~~~~~~~~~~~~~~~~~~~~~~~~~~~~~~~
Saprolegnia
Scientific name
: Saprolegnia species
Common names
: true fungus, cotton mold
Saprolegnia is what we call a true fungus, although it falls outside of the Fungi kingdom. It is generally a secondary infection due to an injury, parasites, viral or bacterial infections or other skin issues in your fish. This fungus takes advantage of already injured fish (or fish eggs) and infests the wounds and dead tissue. It occurs more often in fish kept at low temperatures.
This too looks like puffy cotton, but generally does not occur in a saddle-like pattern. It is more likely to affect small areas of the fish's body or fins. It tends to have more of a hair-like appearance than columnaris. (If you've ever left a bit of food in the tank uneaten, the fuzzies that grown on it are most likely saprolegnia)
Treatment
: Generally once the underlying condition (usually pseudomonas if on the fins) is treated, the sapro infection will go away on its own. If it does persist, effective treatment would be with a formalin-malachite green solution (like QuickCure). Some sources state that acraflavin, malachite green singly, and Tri-Sulfa can also be used.
Sapro infection on the ray of a CT


Pic thanks to Anielynn
Severe sapro infection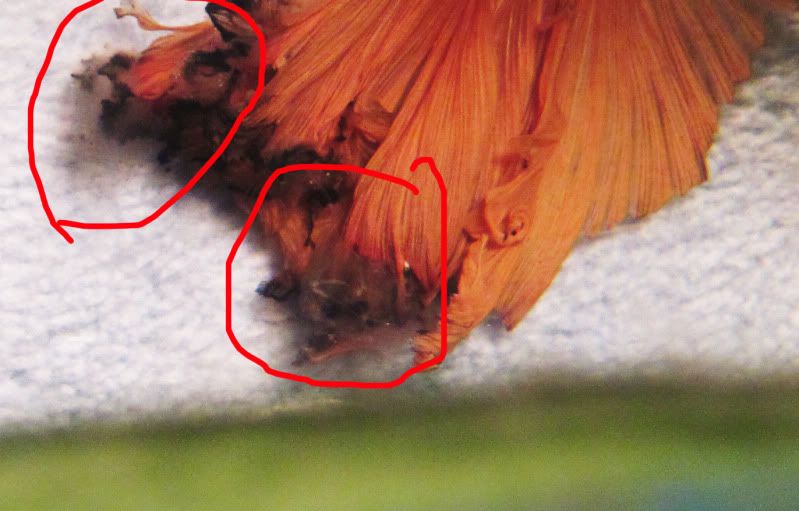 Pic thanks to pandabear