Helping or Hoarding?
Do You Know Your Limits?
© "Ren" Weeks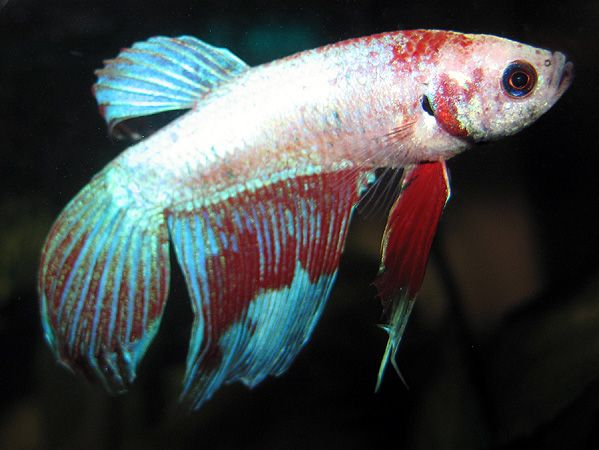 "The road to hell is paved with good intentions." ~ Proverbial Saying, Author Unknown
This betta, shown recovered, was near death when adopted from an overwhelmed "rescuer" who allowed him to languish in filthy water with untreated parasites and fin rot. He suffered lasting damage to his gills & a crooked spine from malnutrition.

Introduction
Is there such a thing as caring too much? Perhaps. It may seem counter-intuitive, but one of the more common forms of animal abuse is not the result of malicious cruelty, but the neglect suffered when well-meaning owners become overwhelmed by the number of animals in their care. Many times, these individuals are professed animal lovers who may have even rescued their companions from other situations, yet become the perpetrator when they find themselves in over their head. This behavior is commonly referred to as animal hoarding, and has shown itself to be a potential problem among the betta keeping & rescue communities.
What is Hoarding?
It is a common misconception that the number of animals alone is what defines a hoarder, but this is untrue; many multiple-pet owners care for a large number of creatures appropriately and humanely, and there is nothing wrong with this. Indeed a serious betta hobbyists may have dozens or scores of well cared for fish. Hoarding, however, is a poorly understood mental health condition marked by the
impulsive, compulsive acquisition of animals due to a psychological dependence
. Hoarders will obtain animals despite lacking the resources and wherewithal to properly care for the animals already in their possession. They often have strong emotional bonds to their companions, but also lack the capacity to understand when they have reached their limits, sometimes going so far as neglecting their animals to death. The individual's health, interpersonal relationships, and living conditions may even suffer as a result of their animal addiction.
Know the Signs
Hoarders are not "bad" people, and those with the best intentions may find themselves in a situation where they bit off more than they can chew; it is easy to be swept away by a beautiful or pathetic betta, and wind up with more than you can handle. Thankfully, there are several major indicators that, if acknowledged, can allow one to avoid entering a situation where s/he becomes overwhelmed. Below are a few potential "red flags;" if you find yourself thinking that several of these statements sound like you, it may be prudent to re-examine your acquisition habits and modify your behavior.
Do You...
Find yourself unable to say "no" to new bettas if you have space?
Have an inability to say "no" to new bettas even when you already feel overwhelmed by the number you own?
Have difficulty entering a fish store without buying/rescuing a new fish?
Feel anxious, agitated, or depressed if you can not/do not obtain a new fish on a given day?
Find yourself over-budget and financially strained by new tanks, supplies, and animals?
Discard belongings or allow your living conditions to decline in order to make space for more fish?
Keep fish in progressively smaller confines so that you can accommodate more?
Feel overwhelmed or despairing because of your number of fish, but feel too attached to rehome some?
Routinely make excuses for missed cleanings and meals? ("Oh, it's just one day...")
Make excuses for preventable, husbandry-related health problems?
Observe husbandry-related illnesses or deaths when you get behind?
Receive concerns/complaints from family and friends about your number of fish or their living conditions?
Preventing the Problem
With a firm commitment to managing one's behavior, here are many easy ways to prevent becoming overwhelmed. While self-control may be difficult, being aware of your behaviors and setting limits is rewarding and responsible; the momentary enjoyment of a new betta does not compensate for the stress and strain of having more than you can handle. Besides, there is no greater joy in fishkeeping than knowing that your bettas are happy, healthy, and well cared for! Below are some simple ideas for self-regulating behaviors that should prevent you from becoming overwhelmed.
Set a maximum and don't meet it. If you are starting at "maxed out," the chances of getting more fish than you can handle is likely. Save that extra space or two for an extenuating circumstance.
Never buy on the spot. If you see a betta you think you want, be it a neglected adoptee on craigslist or a beautiful crowntail in a pet store, don't act on impulse. Take a day to mull it over; examine your finances, space, and time resources. Once the immediate urge is ignored, a decision can be made with more clarity.
Avoid situations where you are apt to obtain fish impulsively. Sucker for adoptions? Don't surf craiglist & petfinder. Can't come home from Petco without a betta? Order your supplies online. Aquabid addict? Stick to forums instead.
Set a high standard for minimum tank size and stick to it. Many collectors start keeping bettas in smaller confines, justifying it by saying that the fish may have had an even worse home had someone else bought it. This is faulty junk logic; the betta also could have ended up in a planted 10g instead of your 1/2g!
Get rid of surplus tanks. Did you upgrade your fish to 5g aquariums then notice that those 1g tanks look awfully empty? They're empty for a reason - they weren't good enough for your fish! Don't keep them around!
Strive for high standards of husbandry. It is more rewarding to have a few very well cared for fish than dozens of fish with only their basic survival needs being met. Spoil your fish with big tanks, live plants, filtration, frozen/live foods, and other quality care - you'll find that you lack the time and money for extra fish, and will also find yourself loathe of small, dull environments.
Finally, don't be afraid to re-home if need be! Many people will not admit when they are overwhelmed out of shame or fear of what others will think. It is far more admirable to acknowledge that you need help and relinquish fish to loving new homes than allow them to languish or even die in your care to save face. If the quality of the home worries you, set standards and require an adoption form.
Conclusion
Hoarding behavior, or merely becoming overwhelmed, is an easy trap for a betta enthusiast to fall prey to - but it isn't an inevitability nor an unalterable course. There are many strategies you can use to ensure that you do not become overwhelmed by being aware of and, if needed, modifying your behaviors. Having a problem is not a sin. However, not dealing with that problem - particularly when it affects other living things - is a great evil. All pet owners, particularly those who are doing rescue and thus dealing with a larger volume of animals, should have a firm idea of their limits. Do you know yours?