Rescue or Sympathy Purchase?

© Ren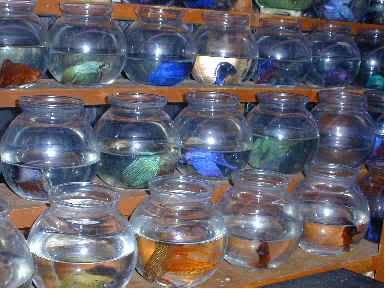 © aqualandpetsplus.com/LA Productions
 Introduction
What is it that defines a "rescue?" Most would say that rescuing an animal involves removing an animal from a bad situation to improve its quality of life. This is an easy, cut-and-dry distinction to make when dealing with animals in the private sector; if the SPCA busts a cat hoarder or you adopt a neighborhood stray, a rescue clearly occurred. But what about animals in the business sector - specifically, animals being mistreated in pet stores? If you buy an animal in distress due to illness or poor living conditions, have you rescued it, and what are the consequences? Animal welfare groups have hotly debated this issue as long as pet stores have existed. From an advocacy perspective, way the issue of negligence and abuse in pet stores is dealt with has much to do with what defines a rescue vs. a sympathy purchase.


 What Is A Sympathy Purchase?
Most animal lovers have come across this situation upon entering a pet store at some point in their life: they see an animal that is clearly sick, injured, or ill kept, and fear for its well-being without intervention. But this is where a rescue effort and a sympathy purchase diverge. When you quietly purchase a neglected animal and bring it home, you've surely helped that individual animal... but you've also become complicit in its mistreatment and that of other animals in the store by financially rewarding neglect. The problem should be obvious: in helping one animal, you've contributed to the harm of others and allowed the conditions to persist unchallenged. Animal welfarists have long dubbed this behavior a "sympathy purchase," and such practices can actively hinder efforts to change conditions in pet stores. Make no mistake: even if sympathy purchases make you feel good, and may help that one individual animal, they are counter-productive and will only perpetuate the vicious cycle of abuse and neglect occurring in stores.


 What Is A Rescue?
It is not impossible to rescue an animal being neglected in a pet store. However, rescuing an animal is a little more complex than seeing a sad, neglected critter and taking it home. Specifically, a rescue effort should become an opportunity for advocacy - in other words, rather than helping one individual at the cost of contributing to the problem, the efforts you make during a rescue should extend to allanimals being negligently treated in the store. Typically, a rescue should include the following steps:
Express your concern: Mistreatment occurring in stores is rarely intentional; businesses want to make money, not deter customers with sickly animals. Generally ignorance or inadequate management cause the problems we commonly see in pet stores. One of the best things you can do to effect change is to speak to management (if you are shy, letters and phone calls also help!). A good discussion with management includes:

A polite, tactful description of the specific problem you observed
Any pertinent information for why you view this is as a problem
Your (reasonable) suggestions for improving conditions
How this problem has effected your chances of patronizing the store
The likelihood that you would recommend this store given the problem
How changing conditions might improve sales

 Ask about discounting if you want to try and bring the ailing animal home. If the health problem is easily observable, stores will often relinquish the animal for free or at a significant discount; they don't want the expense and bad PR of a sickly animal in most cases. Most national chain stores have specific policies that forbid selling sick or "damaged" animals for full price; they may need a reminder of policy. Smaller stores are less predictable, but a polite request that makes it clear that you only want to provide for the animal's welfare rarely fails.
Buy supplies elsewhere, at least until you have observed a significant turn-around in the store's practices. A $1.99-5.99 betta is not much in a company's profit scheme; supplies, however, are. Even if you get the rescue for free, what message are you sending if you plop down $50 on a mini-bow or buy $15 worth of medications to treat a fish that the store made ill?
Follow up. Don't let the effort to help a pet store's animals stop the day you speak to management. Most managers will tell you what you want to hear just to get you to leave. Keep visiting the store. If conditions improve, make sure management knows that you've noticed and appreciate it; we are quick to complain about problems but rare to compliment about improvements. If they fail to improve, it may be time to step up your efforts, via photo documentation of neglect, phone call and letter writing campaigns, leafleting, or calls to the corporate office (where applicable).
 Conclusion
In the business sector, the almighty dollar is the ultimate vote in support or protest of business practices. Thus, rescuing animals from negligent pet stores can not simply be defined as purchasing a sickly animal and nursing it back to health. While this is an admirable act of compassion, it is also short sighted and represents a missed opportunity to help all of the animals being neglected or mistreated by the store. So do bettas a favor: if you want to rescue, be sure to take the appropriate steps to ensure that the store's practices do not go unchallenged. And remember that you can help bettas without attempting to bring home animals from stores - via adoption, education, and advocacy as described in our other pinned topics.