Tire-Track Eel
Mastacemelus Armatus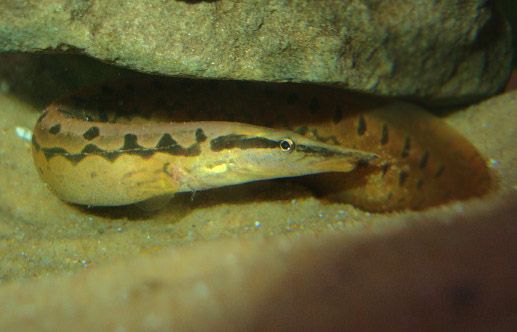 Native Habitat:
Swamps and rivers of southeastern Asia.
Size:
30-36 inches
Min Tank Size:
125 Gallons
Suggested Care Level:
Moderate
Water conditions:
pH: 6.5-7.0, Temp: 72-78*F, Prefers a few teaspoons of salt per gallon.
Diet:
LIVE WORMS! Blackworms, Bloodworms, Tubifex, Earthworms... They will eat fish small enough to be swallowed.
Temperment:
Peaceful, tends to ignore they're tankmates. Never have multiple Tire-Track Eels in the same tank.
Suggested tank mates:
Any fish larger then they can swallow.
Breeding:
Impossible in aqaurium.
Personal observations, Advice:
Have a fine gravel or sandy substrate as they love to burrow. Provide may caves and hiding spaces and cover up the top of your aquarium and filters. They are master escape artists.