So, I was sitting around one day pretty bored and decided to make a canister filter. I had the tools and just needed a few more things. So I went out and grabbed myself a submersible pump, some bio-matrix media and about 10' of 1/2" tubing. That was last Friday.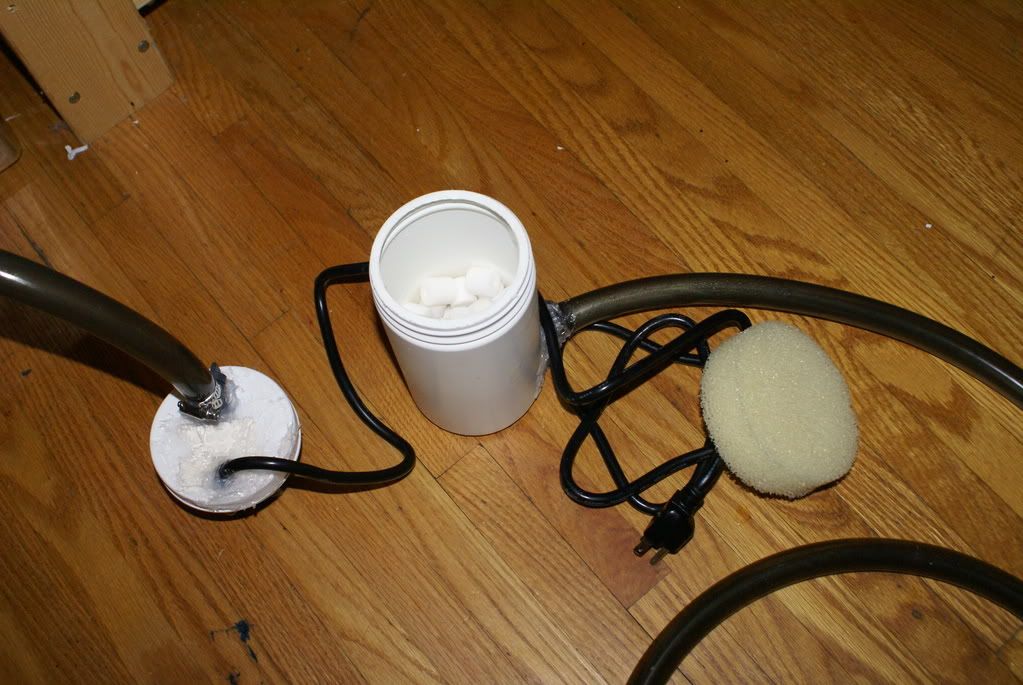 Simple enough? Not really..
First attempt (Friday to yesterday): Silicone seals and a half-assed job due to me not wanting to cut the power cable and rewire it after threading it through the top. They failed of course due to not bonding properly with the canister and joints.
Second attempt (yesterday night): Got an identical canister, properly cut the electrical cable and drilled the holes and I fitted the joints in as snug as possible. Melted the joints and canister together with a soldering iron and proceeded to give it a light coat of contact cement to make sure it was air tight. Let all of that dry and tested it... Nope, didn't work. Joints broke off of their fused plastic seal.
Third attempt will be today. Today I'm going out to get some hose barbs, material for a PVC canister and PVC solvent to bond it all together. If all goes well, the canister filter will be as follows:
Pump: 80-150GPH submersible pump
Media: Round filter sponge on top, rest of the space will be about 250-300g of Fluval bio-matrix media.
Canister: Unknown size ATM, will be made out of PVC bonded by PVC solvent
Hoses: 10' of translucent hose, 5' each hose for intake and outtake attached to hose barbs and held with stainless steel hose clamps.
The tank this is going for is... A ten gallon. Yeah, so as you can tell... This project is mainly to keep me occupied for a while due to immense boredom. Also because I greatly dislike the HOB filter that I have right now. I think I might find a little bit more media to use with the canister though, something along the lines of a pre-filter, fine sponge or a bit of carbon. Luckily, I haven't spent too much on this so far. If made properly the first time, it would have been pretty cheap.
Guh, I feel so light headed being in this room. From the fumes that were given off from the contact cement and the silicone that is. I think I'll go to the hardware store now or within an hour.