African Dwarf Frog
(Hymenochirus boettgeri)
Or, interchangably, Dwarf African Frog.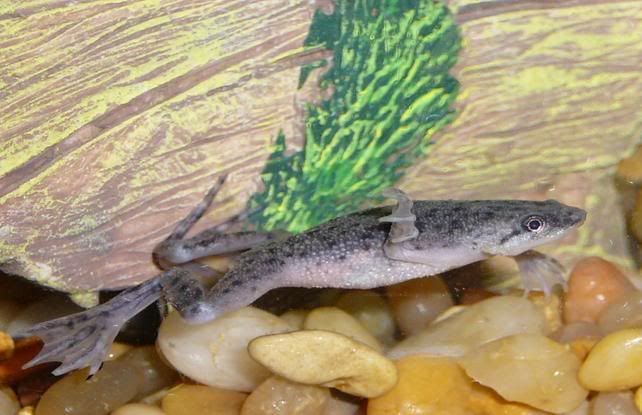 General, need to know information
:
The African Dwarf Frog, cousin to the much larger African Clawed Frog (Xenopus laevis), is an interesting and
easily cared for aquatic species of frog, who actually hail from Sub Saharan Africa, and are thus subtropical.
While completely aquatic, they do need to break the surface to breathe air. African Dwarf Frogs do not have a color
variety, but you will notice when buying that they range from drab pale-grey to a greyish green to a bluish gray at times.
ADF's are often confused with immature ACF's, but one can always distinguish the two by looking at the 'hands' of
the frog in question - Look for webbing between the fingers. Dwarves have webbed hands whereas clawed do not.
ACF's are also distinguishable from ADF's by their eyes: with Clawed Frogs, their eyes are placed squarely on the top of
their head, whereas ADF's eyes are mainly on the side.
There is no Albino strain of ADF on the market, and immature albino ACF's are often mislabeled as Albino Dwarves, so be on the
lookout you don't add a clawed Frog to your tank by mistake, they can grow up to 3+ inches long and comsume small fish!
Dwarf frogs live pretty long lives, some say they can live to be around 10 - 15 years old, so deciding to own them is a bit of a responsibility!
The average seems to be about 5 - 7 years, but some people claim they can live till they're 15+ if they're well taken care of.
Sexing
:
On the whole, sexing ADF's is a straight forward and simple task, but there are someparticular unique frogs who
will be more difficult. Male ADF's on average are smaller, leaner, and have two white 'pimples' (sometimes pink)
behind their front legs. Females on the other hand are larger, usually have a robust and puffy belly, and a small
bump on their bottom between their back legs (where sperm will be deposited during mating). Sometimes the more
difficult frogs will exhibit signs of both sex, be it the 'pimples' with a tail, or a round bellied frog with the 'pimples'.
A sure fire way (if you only have one) is if you hear your frog sing*. Only the males will sing, which initiates mating between a female and male.
*That's right, ADF's DO sing, although it's not the musical trill of some other species of frogs, some compare it
to a high pitched 'chirring' or buzzing sound. A great website that discusses ACF's and ADF's has a few excellent WAV files of their particular song:
http://allaboutfrogs...ets/dwarfs.html
Housing
:
Tank Size
: Dwarves are low waste producers and exert little to no stress on the bioload of any tank.
Some say you could fit 2 ADF's comfortably (bioload wise) into a 1 gallon tank, but a good general rule to go by would be a
gallon per frog of swimming space, however, as with any fish, bigger is always better (up unto a point*). ADF's are
more active than one would think when they are healthy and happy, and need room to dart and do their signature 'yoga'.
*Dwarves have bad eyesight so they rely on their keen sense of smell to find their food and their way around a tank
- A tank too big will lead to issues with feeding: your frog may not be able to find his food, and he/she could
starve to death! A good average is 3 - 6 gallons, but horizontal room is more important than height. If the water
is too deep, they will struggle to get to the surface to breathe, and may drown.
Temperature
: ADF's, being subtropical, prefer a fairly warm temperature of 70 - 77 degrees Farenheit.
I've found 76/77 is when they are more active and healthy. Do not let them exceed 80, or it will begin to take a huge toll on
their bodies, and don't let it drop below 70 into the 60's, as they will grow listless and pale, and become more
suspectible to diseases.
Water conditions
: Clean, soft water is important for frogs. They are extremely susceptible to
Chlorine and heavy metals found in tapwater like Copper and Lead. Using an all around water-safener like Prime, AmQuel,
or AquaSafe should eliminate this risk. Even Dwarf frogs can get Gas Bubble Disease from too much dissolved Nitrogen in the water,
so it it is always advisable to age your water as well as treating it, which can be accomplished by pouring the tank water beforehand
and letting it sit for 24 - 48 hours, before adding your water treatment and frogs.
Dwarves will tolerate a little bit of salt, but a large dose may prove uncomfortable them.
To Filter, or not to Filter?
: Alot of people are under the impression that you can't keep ADF's without first
setting up a mini ecosystem via cycling and filtering your tank. This is not so, ADF's can be kept in uncycled, or
cycled tanks, however one should take into account their dislike of water current. Dwarf frogs prefer slow moving
to completely still water, and a high current environment will stress them out considerably. They will pale and
lose their appetite, while hiding in a corner of the tank that has the least current so they can avoid being tossed
around. Also if/when you decide to filter your frog's tank, be careful to 'frog proof'* the intake valve. There are many
horror stories of frogs being sucked against the intake and sadly, drowning. This 'frog proofing' can be done very
easily, by using pantyhose or a sponge to weaken the pull of water against the valve.
In the end, the decision to filter or not filter your tank is up to you entirely, but take into consideration the
ADF's needs and their low waste production, and most will agree such measures are usually unnecessary.
*Frog Proofing the Tank
: Believe it or not, ADF's are little Houdinis and if there's even a the slightest crack in
your tank lids or seams, you'll need to seal it or you may wake up one day to a missing frog. ADF's can only live
out of the water for 30 minutes to an hour, and even then, they may dry out beyond recovery. Many Dwarf owners have
had an escapee due to improper frog-proofing, and finding them later is really very saddening, so it's best to be
safer now, than sorry later.
Decorations and gravel
: Dwarf frogs really enjoy silk plants and hiding places. I believe
that an empty tank would lead to a decreased quality of life for a Dwarf frog. For all their activity, they are sometimes
shy and want to get away from prying human eyes. A good cave or two and some silk or live plants should do the trick.
When it comes to gravel, you must be careful to get smooth gravel that won't tear or scratch at their sensitive
skin and bellies (this is especially true when they go hunting for food and lunge their faces down into the
gravel). The gravel must also be of correct size: gravel too small could be accidently ingested, causing injury to
the mouth and then forming blockage in the intestines if swallowed, which would eventually lead to death. But don't
get gravel that's too large either, as they do have a bit of a burrowing habit which could lead to them being crushed to death
if they get down under enough of it, or overturn it onto their backs.
Lighting
: Frogs do not require any special lighting consideration, and should be fine under the normal
fluorescent light, but take into account that UV light is not good for frogs in high amounts.
Diet
:
ADF's are carnivorous/insectivorous, so a well varied protein based diet is the key to their long term health.
A diet that is not varied or nutrtionally sound can cause the frogs death via dropsy, so it is very important!
The suggested method is to get a frog/tadpole sinking pellet and live or frozen enrichment foods.
These can include, but are not limited to:
Live or frozen blood, black, tubifex, and white worms,
Live or frozen brine shrimp,
And some people even like to give their frogs bits of tuna steak.
Anything that wriggles will attract more attention and be eaten more often than not over frozen or pelleted foods.
A good way to ensure them feeding despite their bad eyesight is to take a turkey baster and squirt the worms or other
food in front of his face, and enjoy the show as your frog hunts and enjoys his meal.
Juveniles should be fed everyday, however frogs over a year old can be fed every other day, or every 3 days.
Males should be thin, but never skin and bones, and females should be plump, but never look ballooned.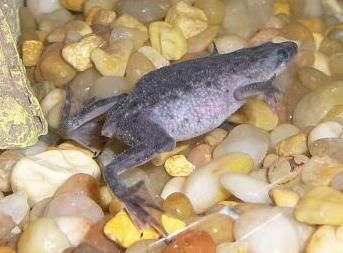 A good example of a well fed, mature female ADF.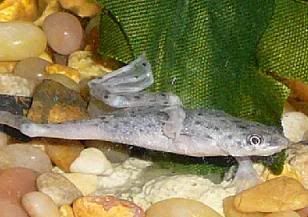 A good example of a healthy, mature male.
Behaviour
:
A healthy, happy ADF should be very active - He should dart and swim eagerly across the tank.
However, Dwarves practice their own brand of Yoga where they will rest their toe on an object and reach their
body out and balance in the water. Sometimes they will float to the surface and simply stay there, suspended
at the top of the water. This should not be confused for a dead or dying frog, as they will usually sink and lay
on their backs when dead. If you're freaked out (and most first time owners are when they see the 'dead float'),
gently poke him and he should dart away from your finger and into the depths of his tank once more. Sometimes
frog yoga and the 'dead float' will last for hours, again there is no reason to be concerned if your frog is healthy.
Breeding
:
Please refer to this page, as I have no first hand experience breeding ADFs-
http://davidcecere.p.../Page2.htm#tads
Common diseases and treatments
:
(Information on disease names and treatment goes to xenopus.com)
Bacterial Infections
: There is a slew of bacteria waiting in the water to attack your frog when his immune system falters. The cause of most bacterial infections is due these bacteria in particular, which are gram negative and may be treated by Koizyme: Aeromonas, Acinetobacter, Proteus, Pseudomonas, and Mima spp.
(Credit goes to xenopus.com for this information)
A frog with a bacterial infection will show paling or discolored skin, mucuousy slime, lethargy and loss of appetite.
Redleg
- A disease where the limbs turn red and swollen, skin may start to come off in patches. Caused by bacterial septicemia and has a high death rate.
Treatment: Koizyme
Bloat or Dropsy
- The symptoms present themself much the same as they do in fish, abnormal amount of fluids causing body to bloat, may also cause skin deformities and abnormalities. This is not a disease, but rather a symptom of another issue, usually organ failure. May be bacterial in nature, but in general is caused by a unvaried diet and poor water conditions.
Treatment: By the time symptoms present themselves, the mortality rate for frogs is high. A method of treatment used very cautiously by some owners is lancing and draining the fluid and maintaining pristine water conditions to prevent further infection.
Tuberculosis
- Presents itself as sores and open bumps on the body. Disease will invade the internal organs and degrade very quickly - May be prevented with good hygeine!
Treatment: No successful cure is known.
Fungal infections
: Often develop as secondary to another disease, stress, trauma, or injury. Growths, ulcers, sores or nodules may be present.
Treatment: Superficially, may be treated with antiseptics or fungicides, topically.
Some fungus may invade the body and grow into the organs, wherein they will need more aggressive treatments with sulfadiazine.
(Credit for treatment information goes to xenopus.com)
Parasites
: Parasites are often found in water and in the amphibian itself, but do not attach themselves unless stress, trauma, or another disease lowers the animal's immune system. Always quarantine a new frog before adding them to your tank.
Nematodes
- The major cause of parasitical infection in frogs, the worms invade the host body and settle in the lungs, where they cause pneumonia and death. Nematodes may also infest the skin of the frog, causing irritation and necrosis of skin.
Treatment: Ivermectin or Levamisole. Repeated treatments may be necessary.
(Treatment information credited to xenopus.com)
My Thoughts on ADFs
:
This species is alot of fun to keep and care for, they're lively and get along with most tank mates, and have a surprising amount of spunk.
If they feel bullied, they will fight back, and my betta who shares their tank often finds herself bit or kicked when she steals their food.
(Don't worry, she's never injured, and the ADF often rides on her back)
ADF's enjoy buddies, and I often find mine together, so if you plan on getting one, it would be best to get two instead!
Despite the supposed 'ease' of breeding ADF's, my frogs have not yet successfully bred, so you can keep a male and female together. Rearing the tadpoles is supposed to incredibly difficult however, and can only really be accomplished if you're purposefully breeding.
ADF's are not handleable pets, do not hold them or touch them beyond what is strictly, purely necessary as you can damage their slime coat and injure them.
Do not release this species into the wild, if you're unable to keep them as pets!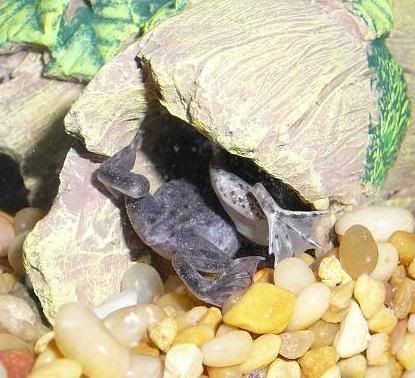 Enjoy your new frogs!
Terms of usage:
1. All pictures featured in this article are mine, don't use without permission.
2. Article may be used so long as credit is given to Dibari, and do not claim it as your own.
3. Always link back to Ultimate Bettas.
Edited by Dibari, 28 July 2007 - 05:55 PM.