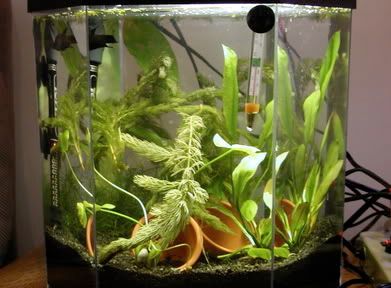 Child's first aquarium
So your child has pestered you into starting an aquarium, or you've decided to set one up for a present or a surprise. Maybe you think that fish make great pets, maybe you think that they're replaceable creatures that cannot feel pain and are only good for ornamentation. Maybe you've researched fish for the perfect species, maybe you're relying completely on the pet store folks to help you pick out a fully functional tank. Hopefully this guide will help you along your journey.
Preparatory Work One
--
Choosing your tank
Before anything else, you will need to decide what type of tank you want. Do you want to keep coldwater fish, like goldfish and U.S.A. natives? What about tropical fish? A coldwater community looks very different than a cold water single-species tank, and the same with a tropical community and a tropical single-species tank. Freshwater fish are much easier to care for than saltwater, and are more readily available and hardier.
A goldfish is the stereotypical first pet, however, it is also the most abused. Every tiny goldfish for sale at the pet store has the potential to become a big, gorgeous goldfish. With the proper care a goldfish will. However, proper care for a goldfish requires an extremely large tank space--rather than cramming three goldfish in a five gallon tank, three goldfish should live in a forty gallon tank--proper filtration--goldfish should have twice the recommended filtration for a tank--and time--goldfish live for twenty years when kept properly. If you want your child to have a first pet that will become a family member and remain with you even after your child has left for college, then a goldfish could be the right fish for you.
Another stereotypical first pet is a betta. These small fish are brightly colored, extremely territorial and solitary and have the advantage that you can keep them singly in nice, compact five gallon tanks. Also, if you choose a betta with a placid enough personality, you can potentially keep African dwarf frogs, snails, and occasionally even shrimp with it--all unique animals that children love observing. Their three-to-five year lifespan means that they will be gone before your child is, and their solitary nature means that you can have an excuse to keep from buying more fish, even though 'it looks lonely.'
Perhaps you want a tropical tank. A large wall of brilliantly colored fish, darting around in schools through silk or live plants. Something to entertain your child, but also to calm yourself and bring a small bit of serenity into your life. Community tanks are good because they have so many fish and species to entertain your child, however, if you make a mistake when purchasing a fish, for example, purchasing a young oscar instead of a danio, you could wind up with a bloody massacre rather than a peaceful community. Tropical communities should be housed in tanks of at least twenty gallons or larger to ward against sudden spikes in ammonia. The advantage to a larger tank is that it allows you to display more fish and keep them in numbers similar to shoals in the wild.
Each type of tank has its own advantages and disadvantages. Children tend to like tanks with lots of life, color and species. However, the more types and number of creatures in a tank, the harder it is to keep all of them happy and healthy. Your child, as well, might have an entirely different concept of what a 'fully stocked' tank means, thinking that your promise for five fish really means twenty-five. Therefore, when setting up an aquarium, it is extremely important to decide what type of tank you want beforehand, what kinds of fish and aquatic creatures it will hold, and to fully research everything that you plan to put into it.
Preparatory Work Two
--
Choosing your fish
When choosing your fish, it is crucial to remember the fish-per-gallon rule. As a rule of thumb, for every inch of your fish's maximum adult size, it will need one gallon of water. There are exceptions to this. Certain tropical species can be overcrowded slightly, having more than once inch of fish per gallon. Large waste producers like goldfish should be assigned two-and-a-half gallons of water per inch of adult size. Aquatic dwarf frogs generally need only one gallon to support them, even though they're over an inch long, and snails can vary on aquatic needs dependant on the species and their diet.
If you've decided that you absolutely want a goldfish tank, the most important thing to remember is
not
to purchase common or comet goldfish. These fish require a minimum of sixty gallons of water per fish due to their energetic swimming habits, and are really only well-suited to ponds.
For a tropical community tank, you will want fish
who can get along with each other.
Good, colorful fish suitable for beginners are most rasboras, all corydoras catfish, all danios, all platies and neon tetras. You can find good descriptions of
these and other suitable species here.
Little children are notoriously impatient and eager to please. If the fish in a tropical tank hide when your child looks at them, another inhabitant such as an apple snail or some ghost shrimp might keep them interested in their pets.
There are also fish that do well in isolation in small aquaria. Perhaps the best example of this is the betta fish. This solitary, territorial, rather slow-moving fish are among the most graceful in the hobby and also among the most personable. A betta can be easily kept in a desk aquarium as small as two and a half gallons. A warning--there are far smaller aquariums on the market, many of which are touted as 'doubling as nightlights.' None of these aquariums are suitable for beginner fish owners, many of them aren't suitable for fish, period, and just like humans, fish need to have their lights off at night to sleep. Other fish that do well in small aquaria (tanks ten gallons or under) are guppies, and their even tinier relative, Endler's livebearers.
With so many fish types, it's imperative that you research what species you want, how large they will get, their habits (are they solitary or schooling?) and what size tank they will need. Once you've decided on your fish, it's time to move onto the actual selection of the tank.
Step One
--
Location
One of the most important aspects of any tank is its location. Whether you want a single fish or a hundred, you need to find a perfect home for it. Just with any pet, you need to find a place for the tank away from drafts, heat vents and direct sunlight. This is because an aquarium needs a stable environment, and though water takes longer to change temperature than air, fish are used to living in environments with very gradual changes in temperature. An aquarium, even a large one, will change temperature much more quickly than a lake. Once you've decided on the location, you need to make sure that whatever you're putting the aquarium on, and the floor under it, can support the weight of the aquarium. This is especially important for larger aquariums. Water weighs around eight and a half pounds per gallon, meaning that if you have a twenty gallon tank, you have around one hundred and sixty pounds of water weight in addition to the weight of the tank and the decorations. If you have this on a weak stand, the stand can collapse unexpectedly, sending shards of glass or acrylic, water, and fish everywhere. If you have a sturdy stand, but have it on a weak point in the floor, you could actually damage your home.
If you have an extremely large tank on a floor that isn't connected directly to the house's foundation (such as the basement), you should try to set up the tank so that it straddles a support beam, rather than resting in between two beams.
Step Two
--
Setting up your tank
Once you have the location of your tank chosen, it is time to actually purchase the tank. I recommend that you not try to make the aquarium a surprise from this point on, since you will need at least two weeks to
cycle
your tank before you can add fish. For a good description of how do to a fishless cycle, and why it's necessary
click here.
By now, I assume, you have chosen the size tank you want and picked an area for it. You should now purchase the tank and set it up. When purchasing a fish tank, you might notice that there are many tank kits available for purchase, kits that contain nets, filters, lights or other things. Or maybe you'll want to choose everything on your own. Here is a list of the minimum items you'll need:
--The tank
--A stand
--A lid for the tank with light and feeding hatch (never use a tank without a lid, because fish can and will jump)
--A filter recommended for that size tank
--A heater if you're purchasing tropical fish
--A thermometer (the glass ones that you can suction cup onto the inside of your tank are easy, inexpensive, and far more accurate than ones that glue on the outside)
--A net that can fish in your tank and easily net the fish you will eventually purchase
--Gravel or other substrate for the tank
--Water dechlorinator
--Test kits for ammonia, pH, nitrites, nitrates, GH and KH. A master test kit generally contains all of the test kits needed. Try to stay away from test strips, as some brands are much less accurate than others.
--Food for your future fish
--Buckets for water changes
--A bucket, container, or small tank for isolation of sick fish
--A gravel vacuum and tube for water changes
And, of course, the most important part in any child's mind:
--Decorations
Decorations can include anything from a cave to a no-fishing sign. Plants, either silk or live, are recommended, as they will make the fish feel more comfortable. Ornaments not heavily weighted or with moving parts, such as a treasure chest that opens while bubbles emerge, are not recommended. Though pretty, they can catch fish inside. I personally lost at least three fish to a treasure chest as a child--two got trapped under the chest when it flipped due to improper weighting, and a third got caught under the lid. A good thing about decorations is that not only will they entertain you, but they will also entertain your fish. I once had a goldfish who spent half of her life rearranging the gravel in her tank to form different slopes and make hummocks.
Once you've purchased your tank, it's time to carry it home and set it up. Most tanks include directions on them, but if yours doesn't, here are some pointers:
--Set the tank up where you want it
before
you begin to fill it. Once there's water in it, it isn't going to move without a lot of trouble.
--Wash the tank out and rinse all of the gravel, equipment and ornaments before using them.
--Fill the tank with gravel. If you're not planting the tank with live plants, use a maximum of one inch of gravel, but try to use less. You will need to occasionally disturb the substrate to clean it and prevent pockets of poisonous gas from forming, which is why you've purchased a gravel vacuum. If you're planting your tank with live plants, use one to three inches of substrate so that your plants can set down roots. Also try to obtain Malaysian trumpet snails when you purchase your fish, as these unique, nocturnal snails will stir up your substrate for you.
--Place a plate on the gravel and pour in some dechlorinated water. If you've got live plants, plant them now. If you have ornaments and fake plants, set them in the tank.
--Fill the tank the rest of the way with dechlorinated water.
--Set up the filter and put in the water heater, waiting twenty minutes before actually plugging the heater in.
Congratulations, you've just set up your tank. Now you just need to cycle it, following the directions under one of the links above, and then it's time to purchase your fish.
Step Three
--
Purchasing your fish
Congratulations! You've set up your tank, waited patiently (or impatiently) for it to cycle, and are finally ready to purchase your thoroughly-researched and anticipated animals. Do not forgot the fish-per-gallon rule. Even though the fish you purchase will be very small and you (or your child) will be tempted to fill the tank with more fish so that they aren't lonely, avoid doing so. The instant gratification of the full tank will give way to misery when all of your fish grow sick due to ammonia poisoning or die.
When you purchase your fish, avoid sickly looking fish. These include ones that have white spots on their body, are moldy, are skeletally thin, have deformed bodies, or are missing their fins. Pick the healthiest looking fish, for though your child might love to nurse a sick fish to health, chances are that it will probably die and infect every other fish in the tank. Once your fish have been bagged,
gently
carry them to the register and immediately take them home. It might be best not to let your child carry them, or to only let your child carry them in a basket to prevent them from growing stressed.
Once your fish are in your home, your child might want to let them free in their tank immediately. However, it's best to float the bags in the tank for at least half an hour to allow the water temperature within them to adjust to the temperature within the tank. If you know that there's a pH difference between the store and your home, or suspect that the store obtains water from a different source than you do, you should then put a little water from the tank in each bag and allow them to sit for another half of an hour. This allows the fish to grow used to the difference in pH. Continue changing water out of the bag for at least another hour before releasing them.
For any future fish introduced into your tank or sick fish, set up an isolation tank. The isolation tank can also be used to medicate the sick fish. All new fish should be housed for two weeks before entering your tank to make sure that they contain no diseases.
For a list of common fish diseases and methods to treat them,
see here.
Sample Setups
These sample setups are a series of bullets describing the tank size, number of fish in the tank and types of decorations. They are meant to show what an ideal setup for that type of fish would be. Hopefully they will serve as springboards for your own imagination and ideas about what you would like your tank to contain.
Goldfish
--60 gallon tank
--2 ryukin goldfish
--3 black moor goldfish
--silk plants with live plants added in once a week for the goldfish to eat as treats
Small tropical tank
--Five gallon tank
--one male betta
--one African dwarf frog
--one ghost shrimp
--live, low-light plants
Large, tropical community
--20 gallon tank
--six dwarf neon rainbows
--four cherry barbs
--live plants, heavily planted
Sources referenced:
http://www.bluecrayfish.com/cycle.htm
http://badmanstropic.../article14.html
http://www.thetropic...uk/easyfish.htm
http://badmanstropic...fish_chart.html
http://animal-world....on/Diseases.htm
http://www.ultimatebettas.com
Edited by Laughing Cat, 06 January 2009 - 09:02 PM.