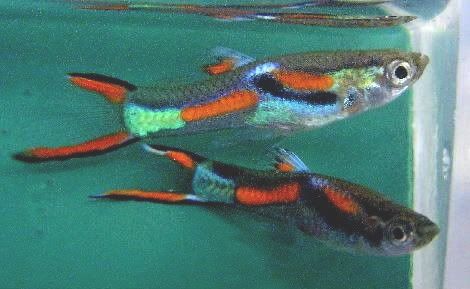 Common Name:
Endler's Livebearer
Scientific Name:
Poecilia wingei
Also Known As:
Endler's guppy, Endler's Poecilia, endlers
Often Confused With:
Poecilia reticulata
, the common guppy. Distinguishable from guppies due to adult size (fancy guppies are, on average, a centimeter longer than endlers) and shape of anal and dorsal fins (endlers have shorter fins with straighter, more sharply defined edges than guppy fins).
Description:
Endler's livebearers are very sexually dimorphic. The males are about half the size of the females, and are brightly colored with patches of black, red, orange, green, blue and yellow in combinations of any or all colors. Their base color is typically olive, but they can be bred with gold or silver base colors. There is much variation among them, with individual strains bred in captivity. Female endlers are olive colored with a slight green iridescence under the light and a black gravid spot on the back of their stomach. Juvenile endlers are silvery.
ERU Classification System (ECS):
(developed by the Endlers R Us website and knowledge base) There are currently three recognized types of endlers. Class N Endler's livebearers can be shown to have originated from their native waters in Venezuela. This includes all progeny from said endlers. Class P endlers are endlers that contain all known characteristics of the breed, but whose origins cannot be determined. Class K endlers are those who have been crossbred to other livebearing species, such as
Poecilia reticulata
. Each class has its own strains. Some examples of strains are the black bar strain found in Class N livebearers, the Dutch green found in Class P and the hybrid tiger found in Class K. As can be observed, the strains in Class N are similar to those in Class P, though those in Class P tend to be bred for a specific attribute such as a green body rather than overall color. Class K endlers have morphological differences, with longer fins that tend to appear similar to a guppy's fins. The description of the strains are taken directly from the ERU Strain Registry's List of Registered Strains. (See end of care sheet for direct link to source.)
Black Bar Strain, Class N
"Black bar on both sides of body, blue patch under dorsal. Sword and a half in caudal."

Dutch Green Strain, Class P
"Mostly blue and white on dorsal fin. Black bar on the side of body with a lot of green and orange. Some males have some yellow and some others have blue, while still having the defining characteristics."? Strain developed by D.J.Aarts (Dutch).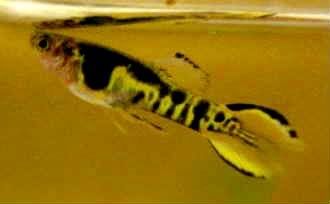 Hybrid Tiger Strain, Class K
"These are heavily marked with black bars, stripes and spots. Large black marking on front half of body, excellent yellow/green contrast." Strain developed by Adrian Hernandez (FL).
Maximum Adult Size:
Varies between the sexes; the males grow to be around 2 cm, occasionally 2.5 cm long (0.75 inches to 1 inch), while the females grow between 3 and 4 cm long (1.25 inches to 1.5 inches).
Area of Origin:
Poecilia wingei
are native to the Paria Peninsula in Venezuela. Most of the ones found in the pet trade can be traced back to the ones brought over by Armando Pou and then line-bred. There are two native habitat of endlers that are know. One is the Laguna de los Patos, a lagoon where "the temperature is around 81 degrees Fahrenheit and the water is hard and green. We are not sure about the ph and alkalinity or just how hard the water is... salt water has been known to enter." (Guy Smith, EndlersRUs) Another is an inland lake in the same area.
Lifespan:
Lifespan around two years, but is also dependant on temperature; high tropical temperatures such as 82 degrees will give the fish an average lifespan of around a year.
Suggested Care Level:
Easy.
Min/Max Tank Size:
The inch per gallon rule always works well, but these fish take well to being overcrowded. They are good candidates for the small desk tanks (you can squeeze three males into a 1.5 gallon tank with very little problems), but can thrive in any size tank. However, they are so small that unless large schools are kept, tank size might want to be kept to ten gallons or below so that the fish aren't 'lost' in the tank.
Temperature:
Endlers do best in tropical and sub-tropical waters. Their 'ideal range' is 78-81 degrees Fahrenheit, but they do well in 76-86 degrees Fahrenheit. The higher the temperature, the shorter their lifespan. At temperatures under 77 degrees Fahrenheit, their fertility is greatly reduced, and at lower temperatures, more males are produced.
pH:
They do well in a range of pHs, and have survived all over the spectrum, from pHs as low as just under 6.0 to as high as 10.0.
Hardness:
The GH of the water is not very important, and generally, whatever it is in your sink is fine. The KH of the water should be at least 50 ppm, the general minimum KH level for freshwater aquaria. Endlers come from hard water, but seem to do well in almost any type of water.
Salinity:
Endlers are freshwater fish. Though in nature, there is an occasional wash of saltwater, the addition of salt is unnecessary until being used to medicate or being used to increase the KH of the water (in this case, use Rift Lake salts rather than ocean salts). Endlers are very closely related to guppies, and there have been instances of guppies being gradually introduced into a saltwater environment until they were able to survive in a salt water tank. They can survive the introduction of salt, but they aren't brackish or saltwater fish, so it isn't required.
Current:
Endlers come from still waters, so strong currents should be minimized. However, unless going for a Walstad-style, no maintenance tank, the filter creating the current should be strong enough to turn the water over six to ten times an hour.
Diet:
Endlers are carnivorous, but their food consumption is limited to what they can fit into their mouths. Most flakes and pellet foods are too large for them, though the flakes and pellets can be ground up. A good pellet food to try would be Hikari Micro Pellets. Even these tend to be rather large for endlers, and wind up being eaten in two or three bites. Freeze-dried foods, such as freeze-dried bloodworms, tubifex worms, daphnia or brine shrimp should be soaked before feeding and broken up if needed to. Frozen foods, such as frozen bloodworms, should be cut into bite-size pieces before being fed. Frozen baby brine shrimp are the perfect size for endlers' mouths. Good live foods are microworms, vinegar eels, grindal worms and baby brine shrimp. Baby brine shrimp are now available to culture from eggs and decapsulated eggs. The decapsulated eggs can also be fed to endlers, and there are non-hatching varieties available for purchase.
Temperament:
Endlers are peaceful, but so small that many community fish consider their young to be tasty snacks. Therefore, they should be kept in species-specific tanks or in tanks with suitable tank makes.
Suggested tank mates:
For a full list of suggested tank mates, please see
Endlers R Us's list of suitable tank mates
. Suitable tankmates include small, peaceful fish, loaches, catfish, cories (corydoras), snails and herbivorous shrimp.
Sexing:
Endlers are sexually dimorphic; the males are much smaller and leaner than the females. While the females have dull olive scales, the males are brightly colored and have prominent gonopodia. Females have a black gravid spot at the base of their stomach (under their anal fin) that from personal experience is generally visible at a very young age. Males are distinguishable once they begin to color up at around three to four weeks.
Breeding:
Both sexes can mature sexually at three weeks to one month, females can start giving birth at two months. Their gestational period is around 21 days, but can extend up to 25 days depending on temperature. Labor can last for between one and three days, occasionally even longer. It is necessary to provide lots of plant cover for fry and to give females a rest from amorous males. The plant cover will also allow small organisms, such as rotifers, to breed. Young fry will generally start picking on rotifers in the tank, so they won't require any special food. However, they can either be fed special fry food, live food, or whatever you feed your adults. The sex of they young is highly dependent on temperature--lower temperatures yield males and higher temperatures females. There have been variable observations on whether or not females consume fry.
Personal observations, Advice:
Endler's livebearers are not a good fish for a person who is 'on the go,' such as a college student who needs to travel between homes multiple times a year. Due to their size, it is extremely difficult to collect them, especially in heavily planted tanks. For 'on the go' people, I recommend that you keep endlers in single-sex tanks with easily removable ornaments for when it's time to net your fish. For more information, I recommend visiting Endlers R Us or any of the other sources listed.
Care sheet format used with permission from Randomwiktor.
Sources used:
Endlers R Us
http://endlersr.us/
Endlers R Us Strain Registry
http://endlersr.us/viewforum.php?f=75
Image of tiger hybrid
http://swampriveraqu..._wsn/page2.html
Tankmates:
http://endlersr.us/k...de=article&k=29
http://www.aquariumh...earer/page3.htm
http://en.wikipedia....Poecilia_wingei
http://eric.petfish.net/endlers.htm
http://www.aquahobby...lia_endlers.php
http://www.aquaworld...Livebearer.html
http://www.goodeids....N...cle&sid=123
http://en.wikipedia.org/wiki/Guppy
http://filaman.ifm-g...ary.php?id=3228
Lifespan information from Tampafishman1 et al on Endlers R Us forums
http://www.rbej.com/content/3/1/63
Main image:
http://home.earthlin...ures/endler.jpg
Edited to fix formatting issues.
Edited by Laughing Cat, 14 April 2007 - 04:23 PM.