GHOST SHRIMP CARE
Common Name – Ghost Shrimp – sometimes known as Glass Shrimp
Scientific Name – Palaeomonetes Species
Temperature Range – 65 - 82
Average Size – About 1"
Lifespan – 1 – 1 ½ years
What is a Ghost Shrimp?
They are small clear (sometimes transparent white) freshwater inverts.
They are fascinating little things to keep and are an interesting addition to many aquariums!
They are normally peaceful creatures but are not welcome in all aquariums!! .
They are good with smaller peaceful fish, and not so good with larger more aggressive fish …. Unless of course you are adding them as food for the other fish.. as that is what they might be!!
They have 10 pair of legs at the front half of their bodies, 2 of these pairs have tiny claws which they use for finding food and cleaning themselves!! …
Their stomachs are in their heads .. so when they eat you can literally see the stomach 'pulsating' and change to the color of the food, as in the pics of the 2 week old shrimps below.. they'd just been eating bbs!!
Shrimp temperatures and temperaments!
Whilst shrimps can be kept in both cooler and warmer temperatures, their temperaments change with the temperature. With warmer water they may become a little more aggressive, and more active than in cold water. So if a fish come poking around them they fight back!! .. In cooler temperatures they are more peaceful and therefore under more threat of attack from larger fish!!.
Food & Feeding
Shrimps will help keep the bottom of the tank clear of unwanted food as they scavenge the bottom with their little claws and pick up all uneaten food particles. Plus they will help with algae in the tank but should not be relied upon to keep the tank clear of algae.
Sometimes they will also come to the top of the tank at feeding time and skim the surface of the water on their backs trying to grab food!
Basically they will eat anything!! … so if your fish are seeming to grab all the food before it gets to the bottom for the shrimps, there are sure to be particles that escape from the fish that will drift down and be found by the shrimps. Or you can crumble some flake and soak it then use a pipette or turkey baster to drop the food straight down to the bottom of the tank!!
Baby brine shrimp are good food for them to as most adult fish wont eat them and they can get to the bottom and be tasty treats for the shrimps.
Adding shrimp to your tank
When shrimps are added for the first time your fish may find them extremely interesting and chase them around, which probably isn't much fun for the shrimp. So either add them during a water change / tank cleaning when the fish are out of the tank.. Or distract the fish with food whilst the shrimps enter the tank .. Either way the fish may still want to investigate their new tank buddies!!
Generally min 1 shrimp per gallon is a good number. Of course you don't have to have 20 shrimp in a 20g … but definitely no more.
Molting
Every couple of months they will shed their old 'skin' as they are growing. Babies will be more often of course. This is a vulnerable time for the shrimp, and the reason why you need to provide shrimp hidey holes in your tank. Their bodies are soft for a few days and they need to keep away from the fish. HBH crab food will be helpful to the shrimp to if you can manage to turkey baste the food at the bottom of the tank for them. Broken small flower pots make nice little shrimp caves!!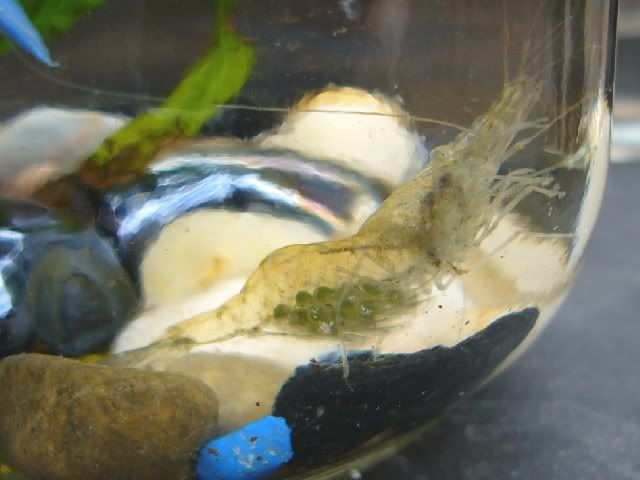 Breeding Shrimps
This is an easy thing to do.. First you just need a group of shrimps, then when you see a pregnant female remove her from the tank. They carry the eggs under their 'tails'. They have 'swimmerets' under the tail and you can see them oxygenating the eggs by moving their swimmerets and kind of jiggling the eggs around. She will carry the eggs for 2 – 3 weeks but be sure to remove her from the tank before she drops the eggs.. or you will never see the babies.. Then again the babies will make nice live treats for your fish!!
Put the shrimp in her own jar with some live plants and maybe plastic plant so she has something to sit on. Don't have any gravel or too many pebbles in the bottom. Keep an eye on her!! Pebbles with algae on will be good and will give her something to do and will good for the babies when the time comes!. Look closely daily at her eggs, when shes very close to dropping them you will even be able to see eyes on the eggs!! (I couldn't get a picture of that!!)
As soon as she has dropped the eggs get her out using your hand not a net to catch her. The babies hatch very fast and are very difficult to see. She can be added back to her tank. Have some brine shrimp ready to hatch, but the organisms on the live plant and added algae will feed the newborns to begin with. Make sure you cover all sides of the jar with paper. The baby shrimps are sensitive to light and its said they will ram themselves into the sides of the jar trying to get to the light. I kept the cover on for 2 weeks then they seemed to be ok. Feed daily as needed with BBS. Then keep feeding bbs and algae then try them with crushed soaked fish flakes at some point.
When cleaning I use a turkey baster to suck water out and put it into a clear container to check I haven't sucked up any babies!! Then I add treated aged water back in.. I do this 3 -5 times a week. I haven't had an air stone in the jar and so far so good. My first 'batch' is 6 babies.. I think I sucked some up when cleaning before I realized she had actually dropped the eggs. So the next batch which is just hatched I scooped the mother out by hand and now wait a few weeks to see how many babies there are as they are very difficult to see – plus they freak out in the light!! I have no further info on how long they take to grow to adults as of yet!!.
Pictures of my 2 week old shrimps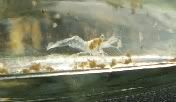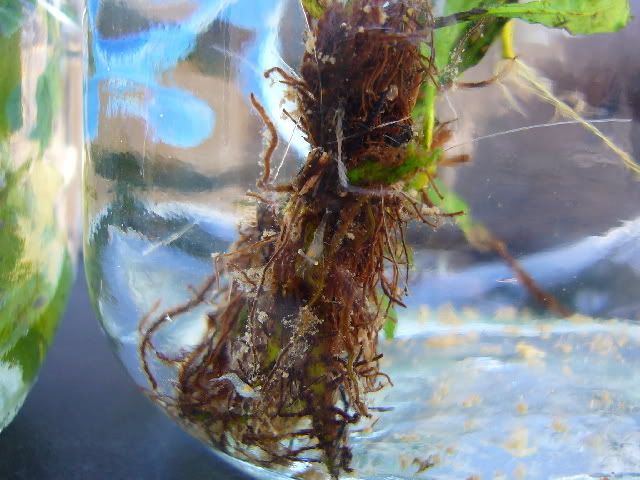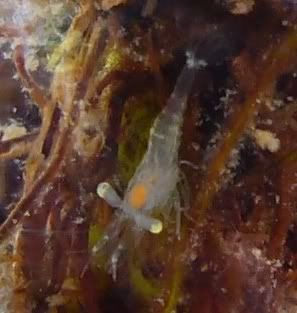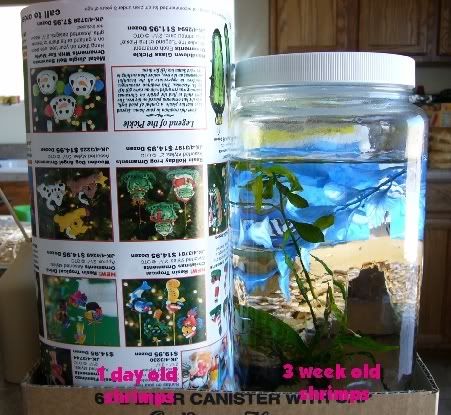 The info on this sheet has been taken from various website but mainly from my own experiences of keeping these cute little things.. the pics are copyright to .. ME